Dem Gov. O'Malley Goes After 'Constipation Congress' For Obstructing Job Recovery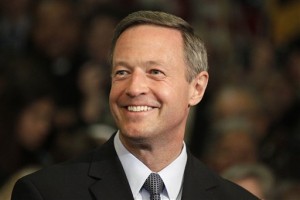 Maryland governor Martin O'Malley spoke to a room of Democrats in New Hampshire yesterday to rally up the party for President Obama's reelection campaign. O'Malley went after Mitt Romney's experience in the private sector and defended the president's record on job creation, but bashed a Republican-controlled "constipation Congress" for obstructing progress on the job creation front through an unwillingness to compromise.
RELATED: Haley Barbour & Martin O'Malley Duke It Out Over Presidential Race, Obama's Economic Record
Regarding the Republican nominee, according to The Washington Post, O'Malley said that Romney has "contorted himself into a pretzel to appease his party's radical right." He targeted Romney's work at Bain Capital, arguing that Romney was more concerned with profits for "a very narrow few" than creating "long-term jobs."
O'Malley stumped for Obama by proclaiming that job creation is up, unemployment is down, and "because of President Obama's leadership, General Motors is alive and hiring and Osama bin Laden is not!"
However, O'Malley's harshest words were lobbed at Congress.
"Could our nation's jobs recovery be happening faster?" O'Malley asked. "Sure it could. but that would require compromise, practicality, and a focus on the common good — three concepts which the newly radicalized tea party Republican Congress is now totally incapable of grasping."

Turning his attention to Republicans at the state level, O'Malley said many no longer have "a vision loyal to the hope of a better life for all of America's children."

"It is the vision of an America that can no longer afford to grow its middle class or send its children to college or to the doctor," O'Malley said. "An America where jobs and opportunities are shrinking. An America where women's rights, workers' rights, even voting rights are all being rolled back."
O'Malley also quipped that "Republican obstructionists wouldn't pass gas if they thought it might heal our economy."
h/t Washington Post
Have a tip we should know? tips@mediaite.com
Josh Feldman - Senior Editor