Detroit Pistons Coach Stan Van Gundy Delivers Fiery Rant on 'Brazenly Racist and Misogynistic' Trump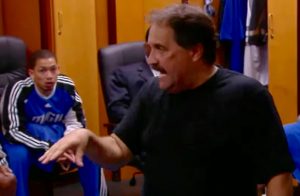 Detroit Pistons head coach Stan Van Gundy went on a fiery six-minute rant Wednesday, denouncing the election of Donald Trump.
"(F)or our country to be where we are now, who took a guy who — I don't care what anyone says, I'm sure they have other reasons and maybe good reasons for voting for Donald Trump — but I don't think anybody can deny this guy is openly and brazenly racist and misogynistic and ethnic-centric, and say, 'That's OK with us, we're going to vote for him anyway,'" Van Gundy said, in remarks reported by the Detroit Free-Press.
"Martin Luther King said, 'The arc of the moral universe is long, but bends toward justice.' I would have believed in that for a long time, but not today…What we have done to minorities…in this election is despicable," Van Gundy said.
The Pistons head coach added that he was particularly disheartened that it appeared Trump pulled out a narrow victory in the team's home state. (Trump currently leads the Michigan vote by 0.3%, though no major outlet has yet declared him the winner of the state.)
It's embarrassing. I have been ashamed of a lot of things that have happened in this country, but I can't say I've ever been ashamed of our country until today. Until today. We all have to find our way to move forward, but that was — and I'm not even trying to make a political statement. To me, that's beyond politics.

You don't get to come out and talk about people like that, and then lead our country and have millions of Americans embrace you. I'm having a hard time being with people. I'm going to walk into this arena tonight and realize that — especially in this state — most of these people voted for the guy. Like, shit, I don't have any respect for that. I don't.
Listen to the full rant above, via the Detroit Free-Press.
[image via screengrab]
–
Follow Joe DePaolo (@joe_depaolo) on Twitter
Have a tip we should know? tips@mediaite.com
Joe DePaolo - Senior Editor