Devin Nunes: Democrats Using Russia Probe to 'Continue Narrative' That Hillary 'Never Lost on Her Own'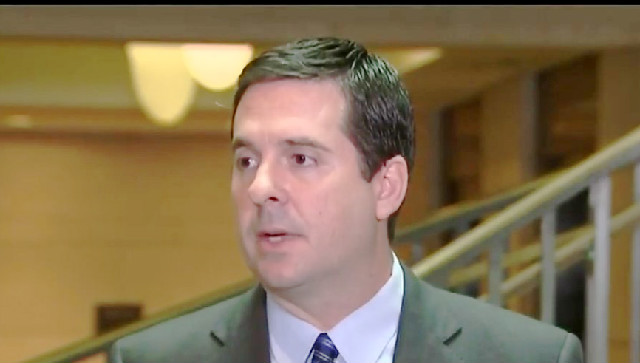 At a private event last month for Republicans in his home county, Rep. Devin Nunes (R-CA) said that the investigations being held in Congress over Russia's election interference and potential collusion with Trump associates is all just about Democrats looking to justify Hillary Clinton's election loss.
In video obtained by the Los Angeles Times of the April 7th dinner, Nunes stated that Democrats weren't serious about investigations. He also addressed the fact that he had recently stepped down for overseeing the House Intelligence Committee's probe:
"The Democrats don't want an investigation on Russia. They want an independent commission. Why do they want an independent commission? Because they want to continue the narrative that Vladimir Putin and Donald Trump are best friends, and that's the reason that he won, because Hillary Clinton would have never lost on her own; it had to be someone else's fault," Nunes told Republicans at the $75-per-plate Tulare County Lincoln Dinner on April 7. His remarks were recorded on video and provided to The Times.

"They have tried to destroy this Russia investigation, they've never been serious about it, and one of the great things now that I've stepped aside from this Russia investigation, I can actually say what I want to say. I know that there's probably media in here, you can write it but just try to get it right when you do," he said.
The dinner occurred the day after Nunes stepped aside from the committee's investigation amid an ethics probe into his activities and Nunes was there to introduce conservative author Dinesh D'Souza. Prior to his recusal, Nunes had come under fire for running to the White House with information about surveillance and "unmasking" he had apparently obtained from the White House, stating that he felt Trump needed to be briefed on it immediately. (Afterward, both Republicans and Democrats said that Nunes' claims were contradicted by the actual intel they viewed.)
At the event, Nunes addressed why he went to Trump with the info, stating that what he found was a "treasure trove of stuff that's really bad in terms of surveillance on Americans and that is critical to the job that I have as chairman of the House Intelligence Committee."
In response to the Times, Nunes ridiculed the paper for reporting on the weeks-old comments, calling it the "epitome of lazy reporting and fake news."
[image via screengrab]
—
Follow Justin Baragona on Twitter: @justinbaragona
Have a tip we should know? tips@mediaite.com