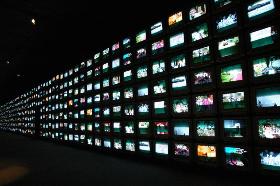 The biggest story of the year comes (mostly) to a conclusion tomorrow night, and every network you'd expect to be covering the midterm elections will be in grand fashion.
We at Mediaite will be taking the night off (ha, kidding), but here's a list of all the places to tune your TV to Tuesday night – and what to expect.
BROADCAST NETWORKS:
ABC
• "Diane Sawyer and George Stephanopoulos will anchor live coverage of election results from across the country on Tuesday, November 2. ABC's "Vote 2010" will originate from ABC News headquarters in New York beginning with a special edition of "World News with Diane Sawyer" at 6:30pm ET and continuing with full election coverage from 8:00 p.m. ET until at least 4:00 a.m. ET.
The network will carry special reports at the top and bottom of each hour from 8:00 p.m. to 9:30 p.m. followed by a live 90-minute special at 9:30 p.m. ET / 9:30 p.m. PT. ABC News will live-stream a special program, anchored by Sawyer and Stephanopoulos, from 8:00–9:30 p.m. ET on ABCNews.com, Facebook®, and on the ABC News iPad application. Beginning at 9:30 p.m. ET Facebook, ABCNews.com, and the iPad app will live-stream the network's election coverage."
• Others contributing: Senior Political Correspondent Jonathan Karl, Senior White House Correspondent Jake Tapper, This Week Christiane Amanpour reporting from Connecticut.
• "David Muir and Facebook's Randi Zuckerberg moderating an On Campus town hall meeting at Arizona State University." (Featuring, well, you know.)
• "Nightline will air a special hour-long broadcast beginning at 11:35pm ET and then will air another new one-hour broadcast for the West Coast at 11:35pm PT. ABCNEWS.com will provide up to the minute results and ABC News projections for winners in the Senate, House, and gubernatorial races as the polls close. ABC's interactive election map provides detailed information about all races for Senate, Congress and Governor. Earlier in the day, there will be special Election Day editions of ABC News/Washington Post's "Top Line" and Jake Tapper's "Political Punch" webcasts."
CBS
• "Led by CBS EVENING NEWS Anchor and Managing Editor Katie Couric, CBS News election coverage will cross all media platforms, featuring reports and analysis from political reporting veterans Chief Washington Correspondent Bob Schieffer, Senior Political Correspondent Jeff Greenfield and CBS News Congressional Correspondent Nancy Cordes. The CBS News team will collaborate with Google to present unique information that will enhance its analysis of the nation's attitudes toward the candidates and the issues."
• "CBS News' election special "Campaign 2010: Election Night" hosted by Katie Couric will kick off Tuesday, Nov. 2 at 10:00 PM, ET. Immediately following the broadcast, Couric will anchor a live webcast at 11:00 PM, ET that will feature extended analysis from the CBS News political team, interviews and special guests. Additionally, Couric will provide brief Campaign 2010 updates at the top of each hour throughout the night.
In addition, CBSNews.com will provide live breaking news from across the country and unique analysis on what it all means in stories, blogs and video. From 9:00-10:00 PM, ET, the site will air a special one-hour live WASHINGTON UNPLUGGED webcast featuring breaking developments on the top Election Night races with analysis from CBS News correspondents, political analysts and more. At 10:00 PM, ET, CBSNews.com will simulcast the CBS News Network Election Night special report, followed by a live webcast with Katie Couric and the CBS News political team continuing their coverage on CBSNews.com and via the site's live streaming partners."
NBC
• "Network coverage will begin at 6:30 pm, ET, on the "NBC Nightly News with Brian Williams." All "Nightly News" feeds will be updated live, with election trends, analysis and results as polls close. The NBC Network's "Decision 2010″ special coverage will begin with a two-hour "Decision 2010″ special report from 9:00 – 11:00 pm, ET. West Coast viewers will get an NBC News live "Decision 2010″ special report from 9:00 – 11:00 pm, PT. NBC News will also offer its affiliates time within the special report to cover local and state races.
For NBC News' coverage, a veteran team of NBC News correspondents will report from across the country on key Senate, House and gubernatorial races and a team of analysts, lead by NBC News' Elections Director Sheldon Gawiser, will analyze the statewide exit polls, election results and voter trends. It is NBC News' policy to not project a winner in any state until all of that state's polls are scheduled to close."
• The coverage will continue from 11:35pmET-3:30amET.
• "NBC News will offer comprehensive coverage of the upcoming 2010 mid-term elections on Nov. 2 across all its platforms, including msnbc, Msnbc.com, Telemundo, NBC News Radio and NBC News Mobile. Live from NBC News' headquarters at 30 Rockefeller Plaza in New York, Brian Williams will anchor "Decision 2010," and will be joined by "Meet the Press" moderator David Gregory and NBC News Special Correspondent Tom Brokaw. Correspondents Andrea Mitchell, Savannah Guthrie and NBC News Washington Bureau Chief Mark Whitaker will also offer reports and analysis. In addition, NBC News Political Director and Chief White House Correspondent Chuck Todd will conduct live results analysis for both NBC News and MSNBC; and Lester Holt will report on exit polls for both NBC News and MSNBC as well."
FOX
• "FOX News Channel' s (FNC) Shepard Smith will anchor FOX Broadcasting Company' s mid-term election night coverage on November 2nd. In addition to providing the network cut-ins throughout the night, Smith will anchor two straight live hours of election programming from 9:00-10:00 PM ET and 12:00-1:00 AM ET.
Joining Smith on a panel will be FOX News Sunday anchor Chris Wallace along with FNC contributors: Nina Easton of Fortune and Stephen Hayes of The Weekly Standard. Further commentary and analysis will be provided by FNC contributors, including: former Alaska Governor Sarah Palin; Democratic consultant Joe Trippi; former senior White House advisor to President George W. Bush, Karl Rove; and Democratic strategist Bob Beckel."
Have a tip we should know? tips@mediaite.com