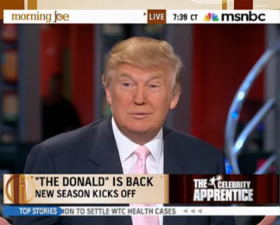 Taking a refreshing vacation from the serious issues facing Washington today (tickle fights), the Morning Joe team indulged in some network cross-promotion as Donald Trump crash-landed onto the show to promote the new season of Celebrity Apprentice premiering this Sunday. And what an interview it was: he praised Rod Blagojevich, he called for the retraction of Al Gore's Nobel Peace Prize ("I'm not supposed to use hair spray!"), he hit on Mika Brzezinski. It was the best ten minutes in the show's history since a drunken Terry McAuliffe took Bacardi shots on air to drown the pain of Hillary Clinton's primary defeat in 2008.
"21st Century's Abraham Lincoln," as Joe Scarborough nicknamed him during the cut to commercial, made a grand entrance giving Brzezinski an awkward, slightly-too-long hug and admitted that he only watches the show because of her beauty. Then he launched into a passionate defense of his comrade-in-hair, former Illinois governor Rod Blagojevich. "He's got a lot of courage, when you think of it," he said. "When people get indicted, they crawl into a corner. They put their thumb in their mouth, they say 'Mommy, take me home;' this guy is on every show."
He also defended his inclusion of disgraced baseball star Daryl Strawberry and Dennis Rodman's appearance on a previous season, prompting Scarborough to describe Trump's mission on the show as "you take people that nobody else wants, you bring them together and you put them on a championship team."
Not all was fun and games for The Donald, however. He also took some time to rip into the two foreign policy issues he sees as the most important and most ignored problems facing America today: OPEC's monopoly on the oil industry and the US's trade policies with China. In a pot-meet-kettle moment, Trump complained that OPEC is "making so much money it's obscene," and argued that without clamping down on OPEC, American trade will be hindered indefinitely. His attack on China was even bolder, claiming that "they think we're the dumbest sons of bitches in the world" and calling for a "50% tax right off the bat" on any product imported from there. And of Gore: "Take away his Nobel Prize."
Then he had Mika "inspect" his hair for a toupee, and with her investigation concluding the hair was, indeed, real, Trump left the show a happy man.
Watch Trump on Morning Joe below:



Have a tip we should know? tips@mediaite.com