Donald Trump Jr. Seemingly Confirms His Dad Asked Comey to Drop Flynn Investigation
Since news dropped yesterday that James Comey might just have left a paper trail detailing a conversation during which Donald Trump asked him to drop the FBI investigation into Mike Flynn, we've been anxiously waiting for the president to Tweet.
Though there was a shocking lack of early-morning Tweets from the leader of the free world when we all woke up today, there was a message from his son, Donald Trump Jr. It came in the form of a quote-Tweet of something written by Fox News' own Geraldo Rivera. Behold: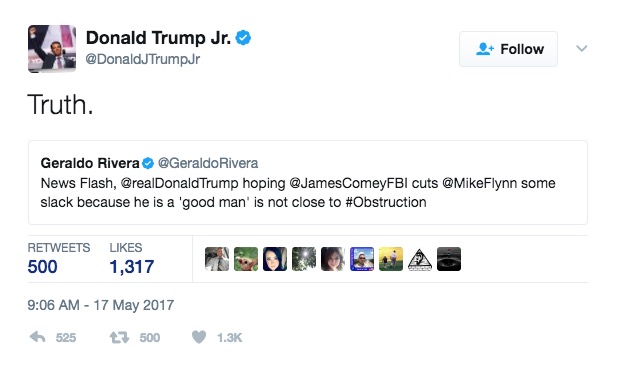 So, to review, Rivera disagreed with all those people who've been saying Trump could be impeached because of an attempt to obstruct justice. Rivera tweeted that what Trump allegedly did with Comey (before, you know, firing him out of nowhere) was not obstruction and then Trump Jr. backed it up with "truth."
Is this Trump Jr. more or less confirming that his dad did what the reports are saying he might have done? Some certainly think so.
@oliverbutler @DonaldJTrumpJr Don't interrupt your enemies when they're making a mistake

— Tom Delano (@tomdabomb167) May 17, 2017
@calvinstowell @DonaldJTrumpJr he doesnt even realize he has 2 left shoes on.

— Prediction Markets! (@jryangolden) May 17, 2017
@DonaldJTrumpJr So… are you confirming that @realDonaldTrump did, in fact, ask to cut Flynn some slack?

— Domenico Montanaro (@DomenicoNPR) May 17, 2017
Given that Jason Chaffetz is somewhere with his subpoena pen right now, we may know what really happened sooner than we think, but for now, the younger Trump is insisting he didn't confirm a thing.
Give me a break. Me agreeing with someone's interpretation of a theory does nothing of the sort. You're trying way to hard. https://t.co/znVhc5FhWd

— Donald Trump Jr. (@DonaldJTrumpJr) May 17, 2017
[image: screengrab]
Have a tip we should know? tips@mediaite.com