Drudge Report Boosts InfoWars Story Claiming Clinton Was Wearing Earpiece During Town Hall
The latest anti-Hillary Clinton conspiracy is that the Democratic presidential candidate was wearing a hidden earpiece to feed her answers during an NBC forum Thursday night.
The conspiracy was apparently started by a tweet from actor James Wood that purported to show a device in Clinton's ear.
Earpiece? #CrookedHillary pic.twitter.com/6LqxRGTgA5

— James Woods (@RealJamesWoods) September 8, 2016
That apparently was enough for The Drudge Report to run with, linking to a story from notorious conspiracy site InfoWars.com.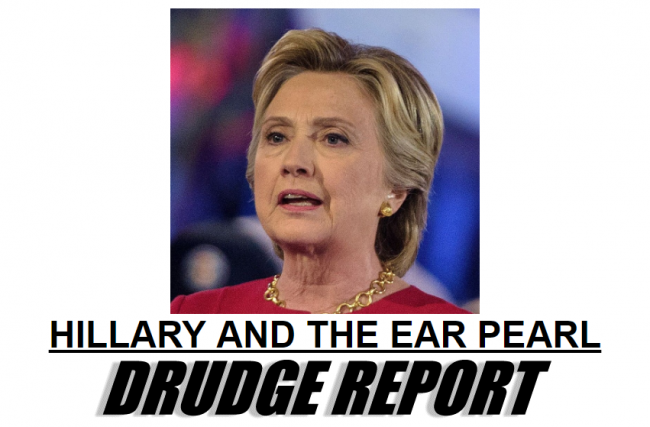 The Alex Jones-run site cited as evidence the Woods tweet and an unsourced story on a blog called TruePundit claiming Clinton's earpiece was "invisible":
Hillary Clinton was sporting a mini earbud wired to receive stealth communications from her campaign handlers during Wednesday's Presidential Forum carried live on NBC, True Pundit has learned.

While Clinton was fielding questions from NBC's Matt Lauer and the public Wednesday night on live television, a quiet buzz started circulating in New York law enforcement circles about Hillary's left ear. NYPD sources confirm Clinton was wearing an 'inductive earpiece," the same technology employed by almost all lead Broadway actors to receive forgotten lines and stealth off-stage cues from directors. The flesh-colored earbud is easily concealed. There are no wires running directly to the ear like you see with the units employed by Secret Service protection detail personnel.
Conveniently, if the earpiece was "invisible," the allegation cannot be rebutted by sharing images showing that Clinton was very obviously not wearing an earpiece.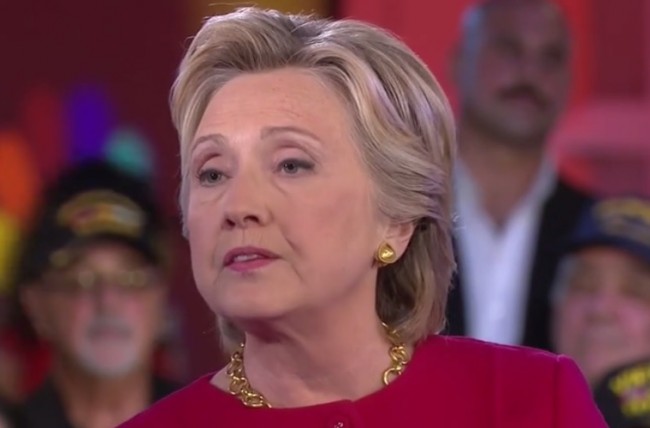 [Image via screengrab]
——
>>Follow Alex Griswold (@HashtagGriswold) on Twitter
Have a tip we should know? tips@mediaite.com