Drudge Gets Exclusive, But When Will ABC Air Interview With Marianne Gingrich?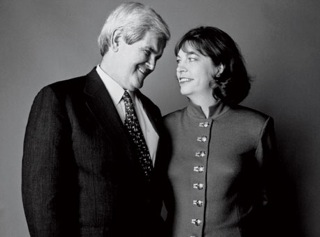 Earlier this evening, the Drudge Report teased an exclusive with the single most vague headline in modern journalism history: "Network Holds Bombshell Campaign Interview." Accompanied with the legendary "Drudge siren," the headline left all of political Twitter waiting on bated breath, until another little tidbit was added: "Civil War at ABC News." It took a while before the media received any more details, but it was worth it: "Newt Ex Unloads on America; Net Debates 'Ethics' of Airing Before Primary."
After a few minutes of high-octane drama on Twitter, Drudge finally updated with some salacious tidbits: "Marianne Gingrich has said she could end her ex-husband's career with a single interview…" he typed, adding that the interview was earlier this week with ABC News' Brian Ross, lasted two hours, and the debate was whether it was ethical to air it before the South Carolina primary. He then added that "ABCNEWS suits determined it would be 'unethical' to run the Marianne Gingrich interview so close to the South Carolina Primary," which might imply that the reporters and producers further down from the "suits" may be the ones lobbying or it to air.
Sometime later, Politico's Keach Hagey added some of her own reporting, suggesting that we were less than 24 hours from learning the contents of the debate: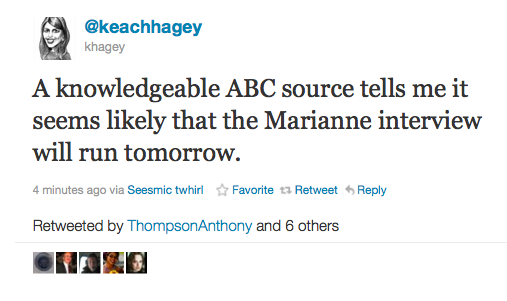 Like all good Drudge exclusives, this one is still developing…
UPDATE: Drudge reports (see what I did there?) that the interview is tentatively scheduled for Monday, "after all the votes have been counted." And adds this salacious tidbit: "Ex-wife of 18 years: Newt not fit to be President… during Lewinsky, Clinton warned cheating Newt 'You're alot like me'…"
UPDATE 2: Drudge adds that Gingrich "canceled a press conference" today to deal with the interview, and added more quotes (from this interview with Marianne Gingrich in Esquire):
"He believes that what he says in public and how he lives don't have to be connected," Marianne Gingrich, Newt's wife of 18 years, explained to ESQUIRE last year. "When you try and change your history too much, and try and recolor it because you don't like the way it was or you want it to be different to prove something new … you lose touch with who you really are."
UPDATE 3: Gingrich's daughters sent an email to ABC News on the matter, saying they will "not say anything negative about our father's ex-wife" and that the candidate would continue talking about "issues." The full letter, via Greta Van Susteren, below:
To: ABC News Leadership
From: Kathy Lubbers, Jackie Cushman
Date: January 18, 2012

The failure of a marriage is a terrible and emotional experience for everyone involved. Anyone who has had that experience understands it is a personal tragedy filled with regrets, and sometimes differing memories of events.

We will not say anything negative about our father's ex-wife. He has said before, privately and publicly, that he regrets any pain he may have caused in the past to people he loves.

ABC News or other campaigns may want to talk about the past, just days before an important primary election. But Newt is going to talk to the people of South Carolina about the future– about job creation, lower taxes, and about who can defeat Barack Obama by providing the sharpest contrast to his damaging, extreme liberalism. We are confident this is the conversation the people of South Carolina are interested in having.

Our father is running for President because of his grandchildren – so they can inherit the America he loves. To do that, President Obama must be defeated. And as the only candidate in the race, including Obama, who has actually helped balance the national budget, create jobs, reform welfare, and cut taxes and spending, Newt felt compelled to run – to serve his country and safeguard his grandchildren's future.
UPDATE 4: According to the AP, the interview will air on Nightline tomorrow.
Have a tip we should know? tips@mediaite.com