Roger Ailes Thinks 'Palin Is An Idiot'? So Suggests New York Magazine Profile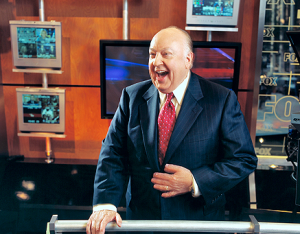 President of the Fox News Channel Roger Ailes is profiled in a New York Magazine article that reveals tons of juicy, behind-the-scenes-details. Just some of the dirt uncovered includes the Republican who Ailes is actively trying to get to run for President and what Ailes truly thinks about lightning rods Glenn Beck and Sarah Palin.
According to the epic piece, Ailes has called New Jersey Governor Chris Christie and urged him to run for President, and even had hoped that General David Petraeus might run. Citing an unnamed Republican close to Ailes:
"Roger is worried about the future of the country. He thinks the election of Obama is a disaster. He thinks Palin is an idiot. He thinks she's stupid. He helped boost her up. People like Sarah Palin haven't elevated the conservative movement."
Yet it seems Ailes is just as worried that Fox was becoming too synonymous with the conservative movement and that his channel was viewed by many to just be a "front" for the Republican Party. The article suggests Ailes encouraged Bill O'Reilly to shoot down the "birther" conspiracy and other right-wing myths, as one way to alter its image. Additionally, they have made conscious efforts to elevate the profile of Bret Baier, the non-partisan host of Special Report.
Yet some of the most intriguing details come from some small tidbits about what a bunch of well-known personalities really think about one another, including the revelations that First Lady Michelle Obama is most turned off by Sean Hannity out of everyone on Fox, and that Hannity himself was annoyed at Beck's rising profile at the network (especially his weekly segment on The O'Reilly Factor). And even Ailes himself is attributed with some backbiting, as a "person close to Ailes" says that Ailes finds Palin's erratic behavior to be proof that she is a "loose cannon."
For all this and so much more read the full article at New York Magazine.
Have a tip we should know? tips@mediaite.com