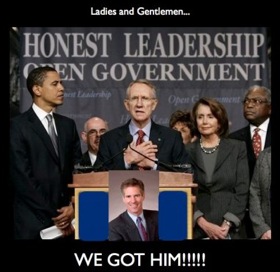 Sen. Scott Brown is making his mark as a legislative maverick whose yet-untainted heart is his compass. Too bad it's not 2008, the Republicans don't have anywhere near a majority in the Senate, and Republican mavericks are passé. Brown ruffled his party's feathers as he joined fellow Republicans Olympia Snowe, Susan Collins, Kit Bond, and George Voinovich in voting for a Democrat-backed job stimulus bill, but despite not being alone, Brown is taking most of the hit for being the "41st vote" that never was. His vote – and the reasoning behind it: "I'm not from here; I'm from Massachusetts" – was not taken very well by a significant chunk of his supporters, and some of the biggest names on the American right are tripping over themselves to call out "told you so!"
The Facebook reaction – all too important in the post-Palin world – has already been catalogued extensively elsewhere, and it is not positive. There are all-caps and typo-laden tirades ("WE ARE NOT GOING TO TAKE ANY MORE RHINO'S LIKE SCOTT "TRAITOR" BROWN!") and mixed capitalization typo-laden tirades ("VERY disappointed by your vote for another Stimulus Bill! Jobs Bill, a bill by any other name etc. etc. etc. Have any of you heard we are BROKE??"). There are a few "thank yous" here and there, but mostly from self-described liberals. Oh, and fan art – tons of fan art. The betrayed Brown team took their show to Ayla Brown's fan page, too, though they were much better behaved commenting on her latest TV appearance. Even outside of Facebook, on the ScottBrownPres Twitter (the one that gives out free "Scott Brown for President" bumper stickers), his fans are questioning their allegiance.
The blogosphere and major conservative media outlets are reacting, if not with less despondence, at least without surprise. After all, it was precisely them who elevated him to the status that justifies the outrage of all his "fans" on Facebook. While some of the more extreme corners of the right-wing blogosphere, like World Net Daily, were busy uncovering the true liberal menace to bother with a know resident of Massachusetts, others were all too happy to point out that Brown was destined to be a traitor.  National Review's "The Corner" contrasted Brown's behavior with Glenn Beck's Republican-bashing CPAC speech. Greta Van Susteren, who was slightly more enthusiastic about Brown, asked her blog readers to "check out the way Scott Brown is voting." The Drudge Report showcased a dramatic close-up of Brown in bright red to give readers even more uneasy sleep last night. Michelle Malkin, on her end, was "not surprised. And I pointed out Brown's moderate record several times on Fox and on this blog during the campaign." And since it was so clear to her he was a liberal, she argues, the liberals owe Brown an apology for labeling him a conservative.
Not all of his conservative followers have counted Brown out, however. Laura Ingraham seemed willing to give him a second chance this morning on Fox and Friends, noting that, while she took issue with the fact that he considered himself the "first step to bipartisanship" ("that's having a pretty big opinion of yourself"), he at least never lied about what he stood for. Ingraham distanced herself completely from the bill, but still noted that "he said from the beginning he was going to be his own man and forge his own way."
Many people on the right, especially those that are not necessarily Massachusetts or even New England voters, expected Brown to be the savior of the Senate Republicans, eliminating the supermajority and existing solely to make the lives of his Democratic colleagues miserable. Shockingly, he also happens to have opinions of his own, not to mention those of his constituents (who, again, live in Massachusetts). He should be in the clear with Massachusetts voters as long as he is the 41st vote against health care – the one issue that propelled him to office. And while out-of-staters and major media personalities can have a profound effect on an election, he has a lot more to fear from his constituency.
Have a tip we should know? tips@mediaite.com