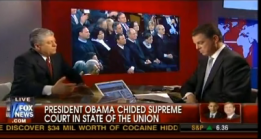 This may have gotten a bit lost in 'tickle-fight Tuesday.' While speaking to law students at the University of Alabama yesterday, Chief Justice John Roberts made waves when he pushed back against President Obama's criticism of SCOTUS during January's State of the Union address. Think of it as a very delayed, much subdued, Joe Wilson moment. Here's what he said:
"On the other hand, there is the issue of the setting, the circumstances and the decorum…The image of having the members of one branch of government standing up, literally surrounding the Supreme Court, cheering and hollering while the court — according the requirements of protocol — has to sit there expressionless, I think is very troubling."
Roberts also called the speech a "political pep rally," which, let's be honest, is exactly what it is, and has been for quite some time. Nevertheless, was it okay for Roberts to respond? There are varying opinions, many of which focus on the appropriateness of Obama's behavior in the first place. But I thought this was interesting. On Studio B today, Shep Smith discussed Roberts' response with Judge Andrew Napolitano, who took a rather hard line…against Roberts. Saying, basically, that while it's nothing new for the President to criticize SCOTUS (at all), it is not okay for any member of the Supreme Court to publicly reply. At all. (It's "unheard of" for the court to reply, says Napolitano.) Video below.
Side note: If you stick it out till the end, Napolitano talks about his new book about the most crucial lies the government has ever told us, during which Shep asks him what one of the most recent was, says Napolitano: "We do not torture." Says Shep: "Because we do torture, we did torture." Interesting exchange.

Have a tip we should know? tips@mediaite.com