Fox News And Fox Business Team Up In New Promo To 'Solve America's Problems'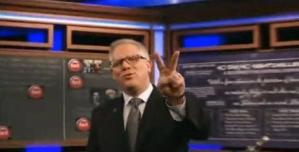 Back in June, a Fox Business Network promo featured only Fox News stars, touting the new financial channel.
Now there's a new marketing strategy out, in ads playing on News Corp. cable news networks but also across the dial, that features Fox News talent tag-teaming with Fox Business hosts – including one with Glenn Beck and somtime-fill-in Andrew Napolitano.
The ad begins "Two networks, twice the power," and features ominous music over Beck and Napolitano addressing the camera from their respective studios. "America is in trouble," says Beck. "The government is slowly killing the constitution and forgetting what makes us great." Says Napolitano: "Personal freedoms are on the line. over-regulations are strangling small business."
It ends by the pair declaring: "Two networks, solving America's problems," and the tagline, "Fox News: The Power To Inform, Fox Business: The Power To Prosper."
The idea that either network is in the business of "solving America's problems" is a stretch. But the new promo of grouping similar personalities on each network could pay dividends for FBN, a young network still fighting to attract more and new viewers, and to compete with industry-leader CNBC. Napolitano is a well-known host, thanks to his past and current work on FNC, and he's actually on the way up at FBN too – he says he'll begin hosting Freedom Watch nightly in prime time during the week beginning next month.
Other ads feature the teams of Megyn Kelly and Liz Claman and Bill O'Reilly and Eric Bolling.
While NBCU may be looking to separate NBC News and MSNBC further, News Corp. is hoping to tie FNC more closely to FBN, to boost the brand. Here's the Beck/Napolitano ad:


—–
» Follow Steve Krakauer on Twitter
Have a tip we should know? tips@mediaite.com