Fox News Launching Weekly World Trade Center Series That Lasts Until Towers Built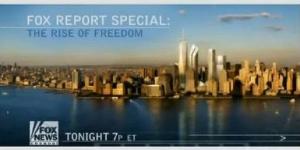 We've heard a lot recently about the area a few blocks from Ground Zero, but what about Ground Zero itself?
We got an early look at a special series Fox News is starting today focusing on the various buildings going up at the former home of the World Trade Center – hosted by Shepard Smith and continuing until the project is completed.
"The Rise of Freedom," begins tonight with a 12-minute look at the construction projects and stories behind those involved. It airs at 7pmET during Fox Report (and will be repeated and posted online), and the series will continue every Thursday during Fox Report – until the project is done. That could be awhile. "The first building is set to be done in 2013, and the memorial next year," FNC SVP of News Michael Clemente tells Mediaite today. "I don't think even Larry Silverstein knows how long it's going to take to get [One World Trade Center] done. But we'll be with them until the buildings are built and the sky is full again."
The first in the series, airing tonight, focuses on a few people's stories, including a window washer who was killed on September 11 and his son. There is gripping footage of him explaining his job in October 2000 while high up on the side of the World Trade Center. Other characters were people working on the construction and memorial/museum projects.
Smith touched briefly on the amount of time its taken to get the projects started, and how little progress has been made. The Pentagon was repaired exactly one year after the attack. Larry Silverstein, who owns the buildings, said, "It's been a challenge of major proportions, dealing with four Governor's of the state of New York, soon to be a fifth."
Clemente says FNC will not focus on the bureaucracy and the hold-ups. "Not extensively no," he says. "That's mostly in the past."
Smith, who toured the site with a camera crew for the project, notes there are currently 2,000 workers on the project, and there will be 10,000 soon. The memorial and museum is set to be completed September 11, 2011. One World Trade Center will be 1,776 feet high, while three other towers will be built. Clemente says after this one airs, the rest will be a few minutes long and will also live beyond TV. "We're building a parallel universe online as people get to meet the characters involved," he says. "It'll be a little like one of those 24/7 operations where you get to talk back to them."
With the "Ground Zero Mosque" controversy in the news so much right now – especially on Fox News – will that storyline be part of the series? "We'll probably reference it in the lead-in," says Clemente. "When most people think of the area now in relation to last month, they think of the controversy. This is not about that at all."
Clemente also talked about the decision to put Shep at the helm: "He lives in the city, he's our main news anchor, and he's a great reporter. He's just a superior field reporter. He's got that natural curiosity that I think lends itself to the project."
Check out the FNC promo here:


—–
» Follow Steve Krakauer on Twitter
Have a tip we should know? tips@mediaite.com