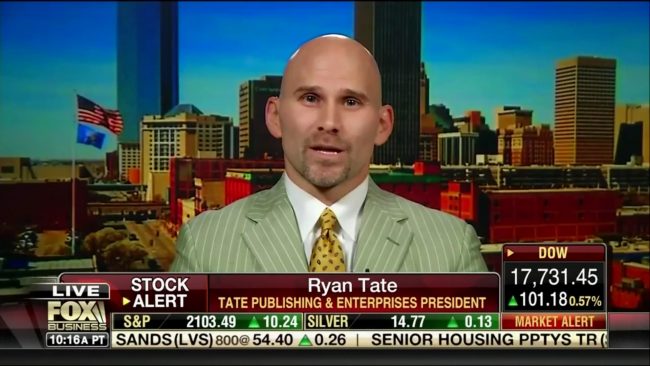 Ryan Tate, an Oklahoma business owner who appeared multiple times on Fox News and Fox Business Network, was arrested on Thursday, along with his father, Richard Tate. The two men are suspected of felony embezzlement, attempted felony extortion by threat, and felony racketeering.
The Oklahoman detailed the criminal accusations against the Tates on Thursday. Their publishing business closed in January 2017. Two major publishing services providers — Xerox and Lightning Source — won million-dollar-plus lawsuits against Tate Publishing and Enterprises after the company "failed to respond to related discovery requests."
An agent for the Oklahoma attorney general's Consumer Protection Unit revealed in a probable cause affidavit that the office had been "investigating consumer complaints made against Tate Publishing and Enterprises and an associated firm, Tate Music Group, since June 2015."
According to the report from The Oklahoman, "there now have been more than 800 complaints" against the Tates' enterprises filed with the Consumer Protection Unit.
The newspaper also disclosed that both Tates "each face four felony embezzlement charges, a misdemeanor embezzlement charge, and three felony attempted extortion by threat charges." They added that "each man also faces a felony racketeering charge, and authorities said they also intend to try to get restitution from the men to compensate victimized customers."
Tate Publishing and Enterprises, LLC started a YouTube account in October 2010. The business posted fifteen videos of Ryan Tate's appearances on Fox News Channel and Fox Business Network between August 2013 and August 2016. Mr. Tate first appeared on Fox News's Hannity program with a group of business owners. He also was a guest eight days later on Fox and Friends. Both times, he was brought on to talk about Obamacare.
The bulk of the rest of the appearances on the Tate YouTube account were segments from FBN's Cavuto program. Host Neil Cavuto brought Mr. Tate on to comment on a variety of business topics, from the California drought to the new iPhone.
[image via screengrab]
Have a tip we should know? tips@mediaite.com