Glenn Beck Calls Chris Matthews 'A Total And Complete Bigot' Over Mormon Remarks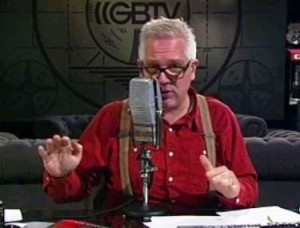 During last night's primary results, Chris Matthews explained why Mitt Romney is doing as well as he is among conservatives despite being a Mormon, by comparing him to a computer technician in India, because "you don't care who's fixing it, just fix the damn computer." On his show today, Glenn Beck (who is also a Mormon, mind you) responded to Matthews' remarks, calling the MSNBC host a "total and complete bigot," suggesting it's part of a larger pattern of anti-Mormon bigotry on the part of not just Matthews but the media in general.
RELATED: Chris Matthews: Like Indian Computer Techs, GOP Is 'Outsourcing' Election 'To A Mormon'
Beck first suggested a double standard when it comes to religious and regional insults, that the media is harsh in most cases, but not when people make negative stereotypes about Southerners, which is what he says Matthews did before making his disparaging remarks about Mormons. Specifically regarding Matthews' comment that the Republicans are outsourcing to a Mormon, Beck hypothetically asked, "Did Al Gore outsource the vice presidency to a Jew?" Beck made the point that anyone who said something like that would be universally condemned by the media.
Beck actually considered conservatives and Evangelicals getting behind a Mormon a good thing, because it proves they're being "decent" and looking beyond someone's faith for solutions. And Beck found it incredibly outrageous that Matthews could refer to two Catholics and a Mormon as "cultists." And Matthews himself is a Roman Catholic, though Beck labeled him a "Nancy Pelosi Catholic." When one of his co-hosts suggested Matthews was more biased against the South than against Mormons, Beck just shook his head.
Beck also had a negative reaction to a controversy from earlier this week when Obama strategist David Axelrod tweeted a link to a story about the Mormon church banning all women who are menstruating in the temple. Axelrod immediately deleted the tweet, but Beck personally found the very accusation absurd, noting he's never had that experience in a Mormon temple.
Watch Beck's complete reaction below:
Watch the remark from Matthews below:
Have a tip we should know? tips@mediaite.com
Josh Feldman - Senior Editor