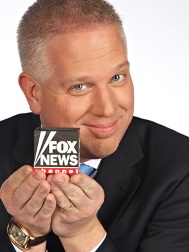 Glenn Beck is on vacation this week – but why? Is it because he's been working a lot and because it's the summer and he has planned to take time off for more than a month…or is it something far more exciting?
TVNewser "tipsters" tell them Beck "was told to take this week off to let some of the heat surrounding him die down." But most signs point to that not being the case.
In the same post, TVNewser writes, "A Fox News spokesperson denied our accounts and simply told us, 'Glenn Beck will back on Monday.'" Politico's Ben Smith was the first to dispute the theory, with an email forwarded from Beck's personal publicist Matthew Hiltzik, showing the vacation was set last month.
Hiltzik tells Mediaite: "It is sad and disappointing that despite denials from all parties involved – Fox and Glenn – along with objective proof that plans for a vacation were made more than a month ago, that someone continues to peddle a completely bogus story."
And here's a more detailed email:
—–Original Message—–
From: Clarke, Adam
Sent: Wednesday, July 15, 2009 2:51 PM
To: XX
Cc: XX
Subject: FW: August Vacation Schedule

Good Afternoon all,

Here is the confirmed schedule for the week of Aug 17: Glenn will return
from vacation on Monday August 24th.

Mon Aug 17: Pat Gray
Tue Aug 18: Joe Pagliarulo
Wed Aug 19: Pat Gray
Thu Aug 20: Doc Thompson
Fri Aug 21: Chris Baker

Thanks, Adam
So what happened here? Gawker has a juicy conspiracy theory, but it comes from the perspective this whole controversy is somehow good for Fox News as a whole. And it's really not.
Although Beck has gotten some negative press because of 20+ advertisers pulling out of his program, the recent run of stories about what it actually means for the network – essentially nothing, since no advertiser has pulled their ads from Fox News as a whole – have been largely positive. We wrote about this earlier in the week, as have many other outlets.
So who benefits from throwing this out into the media world mix on a slow August Thursday? No one really. Except, maybe, media writers looking for a story.
Glenn Beck is on vacation, and all indications are it was on his own, pre-planned accord. When he comes back Monday, he'll have something new to talk about.
—–
» Follow Steve Krakauer on Twitter
Have a tip we should know? tips@mediaite.com