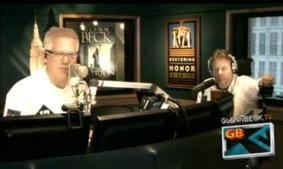 In the wake of Rep. Charlie Rangel calling NBC Correspondent Luke Russert's questions about his ethics violations "stupid," Glenn Beck had some fun with the story today on the radio.
In a rare move, a Fox News host strongly defended an NBC/MSNBC reporter.
Before playing the audio of the dust-up, Beck intro'ed the clip by slipping and calling Luke "Tim Russert." After he was corrected, he said:
This is Luke Russert, Tim Russert's son. The guy you revered, the apple doesn't fall far from the tree. And he asks the tough questions.
Taking the "channel that did have some respect" line from Rangel, he turned it around on the Congressman:
There should be no respect for anyone in Congress or anyone in the White House. There should be respect for the office and the institution. These guys are supposed to be guardians of the institutions and our documents. That's what they are.
Beck then seems to assume the identity of Rangel, going off on how far NBC/MSNBC have slipped. "MSNBC and NBC, how do you sleep at night?" he asked. "How do you sleep at night? You have gotten into bed with Satan himself."
It was clearly a joke, despite his beliefs about the network. This also came directly after the high praise for NBC/MSNBC reporter Russert. But that didn't stop Media Matters from taking the clip completely out of context, beginning it during Rangel's audio and playing it as if Beck really thinks NBC and MSNBC are in "bed with Satan."
Here's the clip:

• Rangel said today he called Russert to apologize.
—–
» Follow Steve Krakauer on Twitter
Have a tip we should know? tips@mediaite.com