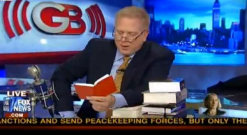 It's not every day you see the New York Times expounding on the power of Glenn Beck (or being so SEO savvy with their headlines!). Particularly the Times estimable book section. But there you have it; the power of Beck is such that it can cross many lines.
I joked the other week that Beck was launching a book club, but apparently I wasn't that far off. According to the Times when it comes to selling books Beck is a heavy hitter:
On his radio show and cable television programs, first on CNN Headline News and now on the Fox News Channel, Mr. Beck has enthusiastically endorsed dozens of novelists, a majority of them writing in the thriller genre. Mr. Beck, who now attracts 9 million weekly listeners on radio and 2.7 million daily viewers on television, often selects authors whose plots or characters reflect political stances that mirror his own. But he also promotes the work of authors who may disagree with many of his views.

"He's our Oprah," said Brad Thor, a writer of political thrillers who has appeared on Mr. Beck's radio and television programs several times. "God love him, we're very fortunate."
I actually have no doubt that in some strange alter-reality Glenn Beck probably is the next Oprah Winfrey, but regardless if the man is saving publishing — and the NYT describes him as "may be the most passionate national media advocate for fiction, albeit in a particular genre" he deserves all the credit that can be heaped on him.
.
Have a tip we should know? tips@mediaite.com