GOP Rep. Annoyed He Hasn't 'Gotten So Much as a Thank You' for Defending Putin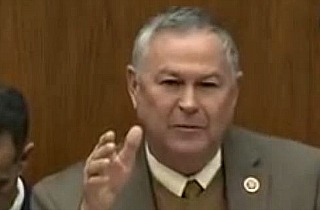 A widely-held notion on the left holds that Republicans and conservatives just "love" Russian President Vladimir Putin. Groups like Media Matters for America hold up conservative commentators like Fox News Host Bill O'Reilly and former Alaska Gov. Sarah Palin as examples of this phenomenon, but Media Matters is confusing making unfavorable comparisons between Putin and President Barack Obama for admiration for Putin.
But now the left, which has been eager for weeks to claim that the GOP is deeply enamored with the revanchist president of an expansionist Russia, now has a real champion for Putin's aggression in Europe: Rep. Dana Rohrabacher (R-CA).
Rohrabacher has defended Putin from his seat on the House Foreign Affairs Committee, appeared on the Kremlin-funded propagandist outlet RT to lend legitimacy to Putin's invasion of Ukraine, and defended Moscow on Twitter.
RELATED Obama's Blood-Soaked 'Reset' with Russia
The GOP representative has attempted to justify his position by echoing the Kremlin's line that the relatively bloodless invasion of Crimea was not only justified but better executed than NATO's intervention in the civil war and ethnic cleansing ongoing in Kosovo in the late 1990s.
But for of his going out of his way to alienate his colleagues in the House and take a position on Moscow's actions well out of step with the public, the Kremlin has not even acknowledged Rohrabacher's efforts. Speaking to the New York Times on Friday, Rohrabacher said he is pretty annoyed that Putin is giving him the cold shoulder.
"I kind of wish I would get some sort of word back," a dejected Rohrabacher told the Times. "But I haven't even gotten so much as a thank you."
The Times notes that there are few Republicans who share Rohrabacher's position on Russia, but he has found an unlikely ally in Rep. Alan Grayson (D-FL). "We should be pleased to see, pleased to see, when a virtually bloodless transfer of power establishes self-determination for two million people somewhere in the world," Grayson recently said.
[Photo via screen grab]
— —
> >Follow Noah Rothman (@NoahCRothman) on Twitter
Have a tip we should know? tips@mediaite.com