GOP Senate Nominee Corey Stewart's Ties to White Supremacists Run Deeper Than Previously Reported
While Corey Stewart recently disavowed alt-right figure Paul Nehlen and claimed he was not aware of his racist views when he called him his "personal hero," the Republican Senate nominee's ties to white supremacists go much deeper than just Nehlen.
Stewart, a member of the Prince William County Board of Supervisors who won the GOP nomination in the Virginia Senate race and received an endorsement from President Donald Trump, held a rally in 2017 with numerous white supremacist activists, has been pictured with racists all over the state of Virginia, and paid a white supremacist family for "fieldwork consulting" and used them as his "bodyguards" while campaigning.
According to information published by the campaign finance transparency initiative VPAP, Stewart's campaign paid Donna Randall, a neo-Confederate activist who said she attended the white supremacist Unite the Right rally, $50 for "fieldwork consulting" during his failed 2017 gubernatorial run. While it is unclear what consulting work Randall conducted on behalf of the Stewart campaign, her ties to the white supremacist movement are very clear, as she attends neo-Confederate events with her husband George Randall, who is associated with the racist, "southern nationalist" League of the South and was spotted at the Unite the Right rally marching alongside former KKK Grand Wizard David Duke.
The Stewart campaign and the Randalls were contacted by Mediaite for comment, but did not respond in time for publication.
Stewart's ties to the Randalls don't stop at the payment for consulting, however. The couple also appeared with the candidate's arms around them in a candid photo shared on Donna Randall's Facebook account.
In another photo, Stewart can be seen posing with George Randall and his brother Gregory Randall, another attendee of last year's Charlottesville, Virginia white supremacist rally that ended in the murder of an anti-racist activist. Additionally, in his photo with Stewart, George Randall is seen wearing a T-shirt with the League of the South's white supremacist insignia on it.
The third person posing in the photo is Jessica Reavis, another white extremist who participated in Shelbyville, Tennessee's White Lives Matter rally and published a racist post on her Facebook about "niggers knocking" at her car door. "He didn't like the laser on my glock [a handgun] between his eyes," she wrote.
What's more, in a picture posted on his official campaign page, Stewart can be seen smiling with a group that includes both Donna, George, and Gregory Randall, as well as white supremacist Jason Kessler, the main organizer of Unite the Right, and Isaac Smith, a racist activist who introduced Stewart at one of the candidate's campaign events and has a history of alt-right shitposting.
George and Gregory Randall also attended Stewart's March 4, 2017 "End Sanctuary Cities Rally" in Richmond, Virginia where — according to a number of sources who were at the event and spoke to Mediaite on the condition of anonymity — the brothers acted as Stewart's "bodyguards." The sources who were at the rally also told this reporter that they attempted to get close to Stewart, but were shooed away by the Randalls.
The two were spotted standing close to Stewart while the candidate was backstage preparing to give a speech at his gubernatorial rally.
Additionally, the League of the South members appear to have acted in the same security capacity for Stewart at a different event at the University of Virginia. The Randall brothers acted as the candidate's security, since Stewart — due to his extreme views — typically attracts a large number of protesters to his events.
As for the Richmond rally, the Randalls were not the only known racists in attendance.
Derrick Davis, another white supremacist who was part of the neo-Nazi aligned Traditionalist Workers Party prior to its demise, was seen operating a bullhorn at the Stewart event.
Davis acted as notable neo-Nazi Matthew Heimbach's right hand man during the Unite the Right rally — an event that Heimbach helped promote. In nearly every picture of Heimbach in Charlottesville, Davis can be seen standing vigilantly by his side.
Davis has also posted photos on his Facebook page in which he can be seen donning Nazi Germany's Imperial Eagle insignia in front of a Traditionalist Workers Party flag and a "Make America Great Again" hat.
Those standing by Davis at Stewart's Richmond rally include Ron Doggett — a white supremacist who has a storied history in the movement and is tied to ex-Klansman David Duke — and the previously mentioned alt-right activist Isaac Smith, who can be seen carrying a Stewart campaign sign.
Doggart sticks out in the movement more than others, given that he actively publicizes his white supremacist views, rather than trying to hide them.
"Who gives a damn what niggers think with their 85 or lower IQs?" Doggart posted in an racist online forum, per the Southern Poverty Law Center. "Nothing is ever gained by their presence, so flush them."
And of course, one of Stewart's most loyal supporters, Jason Kessler — the part-time Daily Caller writer who apparently pivoted to full-time racism in time to plan the Unite the Right rally — could also be spotted in the candidate's crowd. Seen next to Kessler — donning an AR-15 variant and a Confederate battle flag bandana — is Justin Hall, who also aided in organizing the Charlottesville rally.
Other unnamed members of the white supremacist movement joined in at Stewart's event, including an attendee who brought his own Pepe the Frog sign — an online comic character who started out as a harmless meme but was appropriated by the alt-right and turned into a widely known racist symbol.
Stewart's ties to the white supremacist movement continued after his Richmond rally. In one of his campaign videos, which was taken at an event he hosted in Roanoke, Virginia, Stewart posed with a Confederate battle flag held up by James Keefe, who said he attended the Unite the Right rally, and the aforementioned Jessica Reavis — the same activist who posted a Facebook status about aiming a handgun at a black person.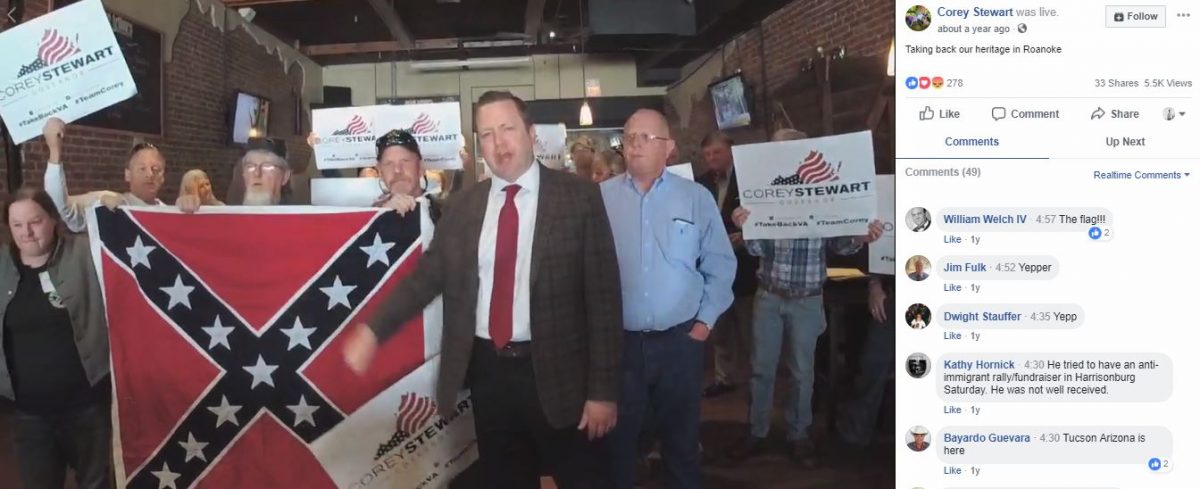 In a picture shared on Twitter, Stewart was also seen posing with a neo-Nazi who called him "the man!"
Oh, it's nothing. Just @CoreyStewartVA taking a photo with a Nazi. NBD. pic.twitter.com/nVw9L3nrEF

— Hyper Chicken, Esq. (@don_chump) June 15, 2018
Stewart's ties and support from white supremacists aside, the candidate has also given an interview to rape apologist and Pizzagater Mike Cernovich, attempted to shift the blame of the Unite the Right violence on "left-wing agitators," and attended an "Old South Ball" (Stewart is from Minnesota) where he netted an endorsement from a high profile neo-Confederate for his defense of racist symbols.
Despite building an ardently supportive base by championing the fringe, racist right, Stewart has tried to distance himself from the movement as his Senate campaign has gained steam. After a video surfaced showing Stewart praising Paul Nehlen — a far-right figure who emerged as a full white supremacist during his latest run for House Speaker Paul Ryan's seat in Wisconsin — the candidate disavowed Nehlen by saying he "wanted nothing to do with him."
Mediaite has also reported that an apparent neo-Nazi was recently named Stewart's campaign "volunteer of the week," news that the candidate has not yet commented on.
On Tuesday, Stewart won the Republican Senate nomination in Virginia and, come November, will be running against Democrat Senator Tim Kaine, who is the heavy favorite. His first moves since winning the race suggest that his disavowal of Nehlen is hollow, as he winked at his fringe base by doubling down on his support for Confederate monuments on CNN and sharing a deceptively edited image on Twitter tying Kaine to the Antifa movement.
The National Republican Senatorial Committee, which aids in GOP Senate races, has yet to publicly support or disavow Stewart, and is instead declining to comment on whether or not they will back their party's nominee.
However, the president has already thrown his weight behind the candidate, tweeting an endorsement of Stewart — the ex-Virginia chairman of the Trump campaign — the morning after he won.
"Congratulations to Corey Stewart for his great victory for Senator from Virginia," tweeted Trump on Wednesday. "Now he runs against a total stiff, Tim Kaine, who is weak on crime and borders, and wants to raise your taxes through the roof. Don't underestimate Corey, a major chance of winning!"
UPDATE: This post has been updated to correct the spelling of Isaac Smith's name.
The blog Restoring the Honor, a hate group watchdog site, aided in the research of this article. Their work can also be followed on Twitter.
[images via screengrab, Facebook, Twitter, and a photographer who chose to remain uncredited]
Follow the author on Twitter (@calebecarma).
Have a tip we should know? tips@mediaite.com