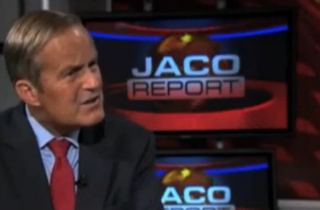 Republican Congressman Todd Akin, currently the GOP nominee running for Senate against incumbent Democratic Sen. Claire McCaskill, justified his absolute opposition to abortion (no exceptions for rape) by claiming that the victims of "legitimate rape" have biological mechanisms in place to reject and prevent pregnancy.
"If an abortion can be considered in the case of a tubal pregnancy [where the mother's life is threatened]," said host Charles Jaco, "what about in the case of rape? Should it be legal or not?"
"First of all, from what I understand from doctors, that's really rare," Akin said about pregnancy from rape. "If it's a legitimate rape, the female body has ways to try to shut that whole thing down."
Akin continued on to suggest that when those protections fail, abortion shouldn't be an available course of action for the victim.
"Let's assume that maybe that didn't work, or something," he said. "I think there should be some punishment, but the punishment ought to be on the rapist and not attacking the child."
TPM points out that Akin has a history of controversial positions on abortion. As a Missouri state legislator, Akin questioned an anti-marital rape law over whether it might be misused "in a real messy divorce as a tool and a legal weapon to beat up on the husband," but eventually voted for it.
This past week Akin also took some heat for seeming to suggest that the federal voting rights laws of the 1960s needed to be looked at or repealed entirely. After some outcry, he clarified that he is not specifically opposed to those particular laws and supports voting rights for all people.
UPDATE: Akin's senatorial opponent, Democratic incumbent Sen. McCaskill responds via Twitter:
As a woman & former prosecutor who handled 100s of rape cases,I'm stunned by Rep Akin's comments about victims this AM bit.ly/NahiHz

— Claire McCaskill (@clairecmc) August 19, 2012
Watch below via KTVI-TV (via American Bridge):
UPDATE #2: Republican Congressman Todd Akin released the following statement saying he "misspoke":
"As a member of Congress, I believe that working to protect the most vulnerable in our society is one of my most important responsibilities, and that includes protecting both the unborn and victims of sexual assault. In reviewing my off-the-cuff remarks, it's clear that I misspoke in this interview and it does not reflect the deep empathy I hold for the thousands of women who are raped and abused every year. Those who perpetrate these crimes are the lowest of the low in our society and their victims will have no stronger advocate in the Senate to help ensure they have the justice they deserve.

"I recognize that abortion, and particularly in the case of rape, is a very emotionally charged issue. But I believe deeply in the protection of all life and I do not believe that harming another innocent victim is the right course of action. I also recognize that there are those who, like my opponent, support abortion and I understand I may not have their support in this election.

"But I also believe that this election is about a wide range of very important issues, starting with the economy and the type of country we will be leaving our children and grandchildren. We've had 42 straight months of unacceptably high unemployment, trillion-dollar deficits, and Democratic leaders in Washington who are focused on growing government, instead of jobs. That is my primary focus in this campaign and while there are those who want to distract from that, knowing they cannot defend the Democrats' failed economic record of the last four years, that will continue to be my focus in the months ahead."
UPDATE #3: The Romney-Ryan campaign released a statement disavowing Akin's comments:
"Governor Romney and Congressman Ryan disagree with Mr. Akin's statement, and a Romney-Ryan administration would not oppose abortion in instances of rape."
[h/t TPM]
— —
>> Follow Andrew Kirell (@AndrewKirell) on Twitter
Have a tip we should know? tips@mediaite.com