Greta Van Susteren Condemns 'Stirring Up Venom' in the Wake of Rumors She's Headed to MSNBC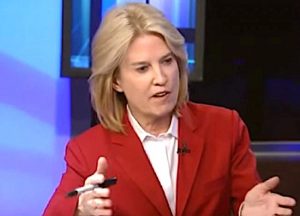 Regular Mediaite readers already know that rumors have been swirling about Greta Van Susteren's post-Fox News plans ever since she absconded from the network following Roger Ailes' scandal-prompted ouster. We reported last week that the latest of those rumors indicated she was heading to MSNBC.
Van Susteren has now weighed in on those rumors and the backlash they've caused.
Here is the full text of her Facebook post:
Can we get something straight? When people work for a large company – including a network – they are not responsible for everyone else who works there. They ARE responsible for themselves. Why do I post this? Because I have seen so many comments critical of me for working at Fox, and now the chatter that I may be going to another network, CNN or MS/NBC. Yes, it is indeed true that I am considering going back to TV but that is not the point of this posting but rather to emphasize that if I do go back, like always, I will be responsible for myself and my hour. This is the way it has always been…and if I sign a contract and you liked my show before, you will like it now (I am the same person.). And if you didn't like my show before? Well…you won't like what I do now.

But in the end? We should all look at issues, not just take sides. We won't always agree, but we are on the same team as Americans with the same goals – peace, prosperity and opportunity. In the news we should identify problems – get the facts – and try to come up with solutions. That's what the news business should be about…looking to make things better, not stirring up venom. We won't always agree – even my own family does not always agree with me – but I really want to try, yes try, to make things better, make things better for you and for next generations to come.

Happy New Year.
So, yes, she wants to go back to television. No, she isn't going to do anything dramatically different than viewers and fans are used to. No, she doesn't think anyone should gossip or insult her over it.
Any questions?
[image: screengrab]
Have a tip we should know? tips@mediaite.com