How Larry King and Fmr. MSNBC Host Ed Schultz May Have Helped Russia Spread Fake Anti-Hillary Clinton News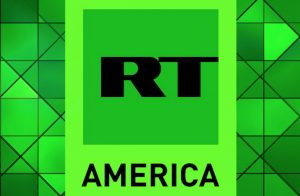 Russia, Russia, Russia. We heard so much about Russia this election season. It was Russian hackers who were believed to be behind hack after hack of left-leaning politicians' emails. It was Russia that wanted to send poll monitors to our voting sites. It was Russia's authoritarian leader who got praised and dismissed in equal measure by GOP nominee Donald Trump. Now, we've learned that it was Russia's propaganda that led to the explosion of fake news across the Internet that so many believe played a role in electing Trump. Through their connection to a source of fake news that was directly named in the reports, two American journalists have now lost their credibility forever.
Let's go over this. Here is how Mediaite's Alex Griswold explained Russia's dissemination of fake news this morning:
The experts contend that Russian government pushes its message with a combination of "white" and "black" sources. The "white" sources are outlets that RT and Sputnik that are explicitly backed by Russia and repeats their propaganda. The "black" sources are the anonymous trolls and hackers that spread fake news and hack Western government officials.
Larry King and Ed Schultz both joined RT America within the last few years and faced heavy criticism for the move. King had to defend himself by insisting that his employer never edited his interviews to make the Kremlin look better. Schultz was widely panned for joining a network known for its propaganda.
Yes, you can say that RT and RT America are two very different things and that RT America can't be complicit in a journalistic crime perpetrated by RT. Liz Wahl probably wouldn't say that, but you can!
The fact is that these well-respected American journos tied their names and images to a network affiliated with propaganda and lies. They knew it from the beginning because they both faced such criticism. Still, they did it and now, the larger RT has brought shame on itself and trickle-down shame on the men who were so adamant that Trump's interview with RT America was really no big deal.
Many disagreed and saw that interview as a very big deal. Why? Because RT and RT America aren't quite the same thing, but at the end of the day, RT means something and what it means is Russian propaganda. In fact, as Politico has pointed out, Schultz went from ridiculing Vladimir Putin by calling him "Putie" on MSNBC to hosting Kremlin-friendly discussions on perceived failings of U.S. foreign policy on RT America.
Whether or not Shultz or King ever stared down a camera in RTA's D.C. bureau and said something they knew to be completely false is irrelevant; their names evoke Russia Today and Russia Today evokes "fake news that played a part in Trump's election."
Was it worth it? Was the new show and paycheck worth the criticism, the mark on their good names, the dissolution of their reputations, and the association with not only Putin, but the election of a man who is so cozy with him?
[image: screengrab]
This is an opinion piece. The views expressed in this article are those of just the author.