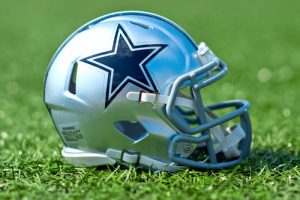 It's back-to-back Sunday Night Football appearances for the Dallas Cowboys, as America's Team returns to primetime for a battle with the red hot Tampa Bay Buccaneers.
Rookie quarterback Dak Prescott had won 11 straight games under center for the Cowboys. But one poor performance in last week's loss to the Giants was all it took for the whispers to begin about a potential call to the bullpen for Tony Romo. Prescott will need to play well and win tonight and beyond in order to keep the critics quiet.
And with the Giants' win on Sunday afternoon over Detroit, the Cowboys must be careful not to squander what, just eight days ago, appeared to be a certain NFC East title and No. 1 seed. A loss on Sunday night would leave the Cowboys just one game up on New York. With the Giants holding the tiebreaker, a loss tonight would leave them with no margin for error the rest of the way.
A win tonight will be no easy task for Dallas, given that they're going up against one of the hottest teams in the league. Tampa Bay comes in as winners of five straight, with a defense that's coming together at the right time, and an offense with a fast-developing young quarterback and lots of talent at the skill positions. Heisman Trophy-winning quarterback Jameis Winston has had an excellent second-year in the NFL, and now has a chance to lead his team to an NFC South title.
Kickoff is at 8:30 p.m. ET. The game will be broadcast on NBC. Al Michaels and Cris Collinsworth have the call. NBC will stream the game on its website, or you can use either the NBC Sports app or the NFL Mobile app to watch on your phone or tablet. Those apps can be downloaded from the Apple App Store, Google Play, and the Windows Store. A cable subscription is required for the free stream
[image via Dean Bertoncelj – Shutterstock.com]
Have a tip we should know? tips@mediaite.com