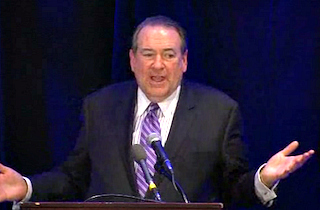 In other news, 2007 called, they want their headline back. Following the controversy that erupted over former Governor Mike Huckabee's (R-AR) remarks at the Republican National Committee's annual winter meeting last week, a new poll from Democratic-leaning (but deadly accurate) Public Policy Polling now shows that the evangelical favorite leads the national republican presidential primary field for 2016.
At the RNC winter meeting, Huckabee told the crowd "Women I know are outraged that the Democrats think that women are nothing more than helpless and hopeless creatures whose only goal in life is to have the government provide for them birth control medication."
Huckabee added: "If the Democrats want to insult the women of America by making them believe that they are helpless without Uncle Sugar coming in and providing for them prescription each month for birth control because they cannot control their libido or their reproductive system without the help of the government, then so be it."
Those remarks launched a week of controversy, and an attempt at a walk-back from RNC Chairman Reince Priebus, but they haven't apparently hurt Huckabee with Republican voters. From PPP:
Following the controversy over his 'Uncle Sugar' speech Mike Huckabee has…taken the lead in the Republican primary race for 2016. He's at 16% to 14% for Jeb Bush, 13% for Chris Christie, 11% for Rand Paul, 8% each for Ted Cruz, Marco Rubio, and Paul Ryan, 6% for Scott Walker, and 5% for Bobby Jindal.

There's been more movement than usual over the last month, with Huckabee and Bush each gaining 3-4 points, and Chris Christie and Ted Cruz each falling by 6 points.
After briefly holding a small lead over Hillary Clinton, Gov. Christie slipped in general election polling, but still fares better than any other Republican, including Huckabee:
Last month Christie led Clinton in a head to head, 45/42. Now Clinton has the upper hand on him at 45/43. That's similar to the small leads Clinton holds over the rest of her potential Republican opponents- she's up 45/43 on Bush, 46/44 on Ryan, 46/43 on Huckabee and Paul, and 47/41 on Cruz.
Clinton has consistently led all Republicans in every other general election poll that PPP has conducted, but those leads are now much smaller than they were. A key part of the sales pitch for a perceived moderate like Christie or Bush has been their ability to perform better against Clinton, but with Huckabee, Rand Paul, and Paul Ryan all polling within the margin of error against her, that rationale is hurt significantly.
Among women, Huckabee has a negative approval rating of 33% favorable, 37% unfavorable, but that's by far the best spread among Republicans, while Clinton has a 53%-40% favorable/unfavorable rating with women voters. Christie comes closest to Hillary in a head-to-head matchup with women voters, losing 51%-36%, but the rest of the Republicans are closely bunched as well, losing by 16-18 points.
Huckabee does fare best against Hillary with black voters, trailing by only 60 points, 71%-11%. Ted Cruz fares best against her with Hispanic voters, losing by 28 points, 63% to 35%, while Jeb Bush and Chris Christie tie for the lead against the former Secretary of State with white voters, each beating her 51% to 37%.
In losing to President Obama in 2012, Mitt Romney lost the Hispanic vote by 44% and women by 11%, but won the white vote by 20%.
Have a tip we should know? tips@mediaite.com