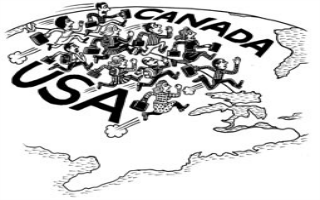 On Tuesday, The Huffington Post reported that a number of Democrats who attended their party's presidential nominating convention last week said that they intended to leave the country if Mitt Romney defeats President Barack Obama in the fall. This oft-repeated pledge has been made many times over the years by prominent observers of politics – but none of them ever seem to follow through with their threat.

During the Democratic National Convention, The Huffington Post's reporters approached several attendees and asked them for their thoughts on the state of the race and their party's prospects for 2016. Of the 74 attendees they spoke with, 16 said they intended to leave the country if Romney wins in November. They named several nations that they may retire to, but the most popular and regularly cited destination for self-imposed political exile is America's neighbor to the north: Canada.
Anyone with friends of varying political strips will note that this is a familiar refrain in election years. Such pledges are not the exclusive province of Democrats. In 2010, conservative radio host Rush Limbaugh famously promised that if the Affordable Care Act passed the Congress, "I am leaving the country. I'll go to Costa Rica." Limbaugh continues to broadcast today.
The New York Times has an interesting list of those partisans throughout history who were so repulsed by one politician or another that they pledged to leave the country if their preferred candidate lost.
Pearl Jam's lead singer, Eddie Vedder, pledged to leave the country if George W. Bush won in 2000 – Bush won, Vedder stayed. Actor Stephen Baldwin promised to abandon America's shores if Barack Obama won the Democratic party's presidential nomination in 2008 – Baldwin was last seen debating MSNBC host Martin Bashir from the floor of the GOP convention in Tampa last month.
Actress Tina Fey promised that she would be "leaving earth" if Sarah Palin became the Vice President of the United States. Fey made no documented overtures to Moscow in the wake of that declaration to see how much it would cost to hop a trip on the next Soyuz out of town.
Hyperbole and overwrought expressions of fealty to one candidate or another in election years are commonplace. The Republic, however, has inexplicably managed to survive both Presidents Bush and Obama. A deep breath is probably the best proscription for those suffering from election year-induced apocalyptic delusions.
By the way, no one tell the Democratic National Convention attendees that Canada arguably has a more conservative government in Ottawa than the U.S. has in Washington D.C.
Read the full dispatch from the DNC via The Huffington Post
> >Follow Noah Rothman (@Noah_C_Rothman) on Twitter
Have a tip we should know? tips@mediaite.com