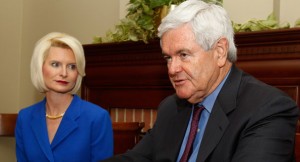 Newt Gingrich's campaign has already faced various obstacles, most notably staffers' decision to abandon the campaign en masse and the pervading rumors and speculation regarding why, exactly, they chose to leave. Now, echoing recent concerns over a certain Tiffany & Co. bill, it appears that the blame for Gingrich's campaign woes is shifting onto his wife, Callista Gingrich. Mrs. Gingrich, as you might know, has long played a role in running her husband's ventures, most notably as President of Gingrich Productions.
MSNBC provides a telling anecdote:
During Gingrich's campaign trips, Callista Gingrich repeatedly insisted that the campaign carve out time for public screenings of their movies, where the couple answered questions from the audience, and then sold DVD copies, eating up hours of time on the candidate's schedule, the campaign sources said. When Callista Gingrich sent out an email insisting that a movie screening be arranged in New Hampshire, the candidate's senior staffer in the state, David Carney, fired off an angry reply, saying he would refuse to do so, sources said. Carney declined to comment.
Other complaints include Mrs. Gingrich's control over the campaign schedule, which allowed her to put off early-morning events to allow additional time to get her hair done. Then there was the couple's decision to embark on a cruise, which, according to one adviser, was apparently "all about pacifying Callista."
Joe DeSantis, Gingrich's current spokesman, believes this is simply a matter of bitter former consultants blaming a politician's wife for their own frustrations, insisting that this is indeed "Newt's campaign," not his wife's.
h/t MSNBC.com
Have a tip we should know? tips@mediaite.com