Is There Room for One More at the White House Picnic Table? Gates' 911 Caller Speaks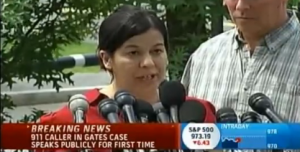 Move over gentleman there is another wronged party in this whole Gates mess. Lucia Whalen, the woman whose phone call alerted Cambridge police to the fact that two men were attempting to break down the door at the Henry Louis Gates' residence, held a press conference today to clarify her role in the whole confusing, sordid affair.
Earlier this week, when the 911 tapes were released it was revealed that Whalen had not, in fact, mentioned race in her call to police. Nor did she mention it at any point afterward, she says, even though Sgt. Crowley's police report quotes her as describing "two black males with backpacks." Numerous media reports, including the New York Times, subsequently picked up on this detail compounding the appearance of racial profiling in all aspects of the case. Whalen, and her lawyer, decided it was time to clear her name.
I was called racist and I was a target of scorn and ridicule because of the things I never said. The criticism hurt me as a person, but it also hurt the community of Cambridge…The criticism at first was so painful I was frankly afraid to say anything. People called me racist. Some even said threatening things that made me fear for my safety. I knew the truth, but I didn't speak up right away because I did not want to add to the controversy.
Whalen also noted that all she had said to Sgt. Crowley when he arrived at the scene was "I was the 911 caller" leaving unclear where exactly Sgt. Crowley's description of "two black men with backpacks" originated from. Cambridge police Commissioner Robert Haas has since "acknowledged that the police report contains a reference to race, but said the report is merely a summary of events." A summary painted in bold strokes it would seem, about events that continually become cloudier. As for sharing that beer with President Obama, Crowley, and Gates, Whalen's lawyer Wendy Murphy had this to say:
"The three highly trained guys who reacted badly are getting together for a beer," Murphy said. "The one person whose actions have been exemplary will be at work tomorrow in Cambridge. I don't know — maybe it's a guy thing. She doesn't like beer anyway.
Snap! Well the President apparently isn't much of a drinker, so maybe there's hope. Video of the presser below.
Have a tip we should know? tips@mediaite.com