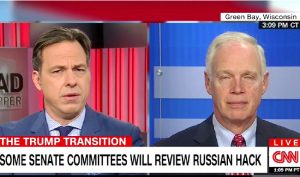 During an interview with Sen. Ron Johnson (R-WI), CNN host Jake Tapper made multiple attempts to to get Johnson to provide an example of President-elect Donald Trump being critical of Russia or Vladimir Putin.
Tapper began the segment by asking Johnson, who serves on the Homeland Security and Foreign Relations committees, if the Homeland Security committee will review assessments that Russia tried to influence the election. The Wisconsin lawmaker noted that he's "happy to gain more information" but remarked that he's "not sure why this has all become politicized."
Later in the conversation, Johnson pointed out that the United States needs to "start dealing with Russia from a position of strength rather than weakness." This led the CNN anchor to say he understood Johnson was critical of President Obama's policies, "but have you ever heard Donald Trump say anything critical about Vladimir Putin or Russia, ever?"
The Senator responded by stating that Trump has talked about strengthening our borders and defeating ISIS, which represents strength, but didn't answer Tapper's question.
"The President-elect hasn't even been willing to criticize Russia when he was told that Vladimir Putin is thought to have been behind murders of political opponents and journalists," Tapper noted. "The President-elect said he hadn't seen any evidence to that effect. I have never heard him criticize Vladimir Putin, ever, and I understand what you're saying about the United States being in a position of strength, but why do you think that he is ever going to be willing to take on Vladimir Putin if he has never disagreed with Vladimir Putin on anything?"
The Republican replied by pointing out that he himself has been critical of Putin and perhaps when Trump is POTUS, he'll get all the information he needs to be "very wary of Russia."
One last time, Tapper tried to get an answer from Johnson: "When I asked you if you could name one thing that Donald Trump ever said critical of Vladimir Putin, I didn't hear an answer."
"I'm not an encyclopedia of the statements he's made or not made," Johnson said.
Watch the interview above, via CNN.
[image via screengrab]
–
Follow Justin Baragona on Twitter: @justinbaragona
Have a tip we should know? tips@mediaite.com