Jay Carney To Press: 'You All Ought To Do Your Jobs' When Reporting Obama's Private Sector Gaffe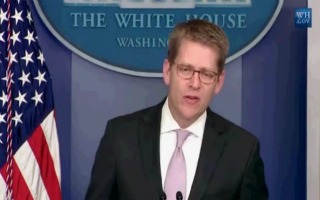 Speaking to reporters during a White House press briefing on Monday, Press Sec. Jay Carney was asked if it was fair of President Barack Obama's White House to complain about a lack of context when reporting on Obama's statement that the private sector is "doing fine" when the Obama campaign regularly highlights statements made by Mitt Romney without context. "You all ought to do your jobs and report on context, of course," Carney replied.

RELATED: Did Jake Tapper Get Jay Carney To 'Make News' On Gay Marriage?
Since the Obama campaign is protesting the out of context usage by the Romney campaign of the President saying the private sector is "doing fine" on Friday, Carney was asked if the Obama reelection team will refrain from using any potentially damaging statement that Mitt Romney makes in the future without the appropriate context.
"That's a rather remarkable question," said Carney laughing.
I can simply refer you again to what the President talk about as he stood here before you in the context of his rather full discussion of the state of the economy, and the simple fact that in this recovery has seen 4.3 million jobs in the private sector created – it has also seen a situation where, because of massive layoffs of teachers, firefighters and police officers – a reduction in the public sector. And by public sector, we're talking about state and local governments who have had to layoff teachers from classrooms, firefighters from the force and police officers from the force. That was the context of his comments which I think everyone in this room was aware of at the time.
Carney was asked in a follow up if it was fair that the standard that he was advocating for be applied both ways. Carney said that he believed "you all ought to do your jobs and report on context, of course."
"You're asking me to speculate on what someone might say in the future and the context of it and I simply can't do that," Carney continued. "But, if you're asking me if we're for good reporting filled with context, the answer's yes."
Carney repeated that the White House supports true and accurate reporting.
Politico's Dylan Byers reports that the Republican National Committee's Tim Miller has responded to Carney's demand that the press do their jobs:
"Jay Carney might want to blame the press, but there was nothing ambiguous about President Obama's statement," Miller wrote to Politico. "He believes the problem facing our economy is that we don't have enough government, it's that flawed worldview that makes it important we elect a new president who knows how to actually turn the economy around."
Watch Carney's briefing via White House.gov:
Follow Noah Rothman on Twitter
Have a tip we should know? tips@mediaite.com