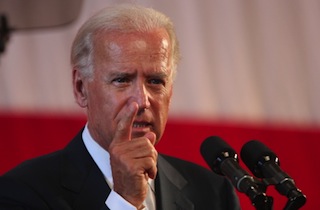 At the Working Families Summit put on by the White House Monday morning, Vice President Joe Biden emphasized his working class roots and simplistic personal finances, likely a veiled shot at a potential 2016 contender for the Democratic nomination who's had some trouble speaking in public about her significant fortune.
Calling himself the "poorest man in Congress" and boasting that he was wearing a "mildly expensive suit," Biden told the crowd, "Don't hold against me that I don't own — that I don't own a single stock or bond. I have no savings accounts. But I got a great pension* and I got a good salary."
RELATED: Biden Joins Instagram, Finally Melds with Onion Version of Himself
The Washington Post reported that the Bidens combined income last year was about $400,000, or what Hillary Clinton makes at two speaking engagements. Clinton tried to defend her speaking fees by saying her family had been "dead broke" upon leaving the White House in 2001, and over the weekend distinguished herself and her husband — reportedly worth a combined $100 million — from the "truly well off."
"Sometimes we talk about this stuff, about struggle, my struggle, my God, compared to where I grew up and the way people are trying to go through things now," Biden continued. "But here's the point I want to make: I've been really, really fortunate."
Biden declined to mention that he has his own dwarf planet, which sounds like a great place for a tax haven.
* What's that?
[h/t Washington Post]
[Image via Jason and Bonnie Grower / Shutterstock.com]
——
>> Follow Evan McMurry (@evanmcmurry) on Twitter
Have a tip we should know? [email protected]