John Oliver Whacks Sean Hannity Over His Attachment to Non-Scientific Pro-Trump Polls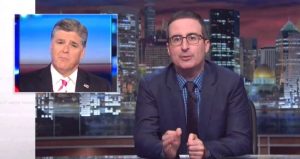 One of the deep dive segments during Sunday night's Last Week Tonight saw, predictably, host John Oliver target last week's presidential debate and the immediate aftermath. The comedian directed his scorn at Donald Trump mostly, as the Republican nominee for President has continued touting his excellent temperament as the reason to earn votes. "It's a temperament that allows you to insist that you won something when you demonstrably lost," said Oliver, slamming the nominee who reminded him of, "a racist toddler coming out of dental surgery."
"You can not incoherently rant about having the best temperament. That is a statement that inherently disproves itself. It's like getting a forehead tattoo that says,'I have excellent judgment,'" joked Oliver.
But one of the subjects of Oliver's takedown was Trump's good pal Sean Hannity, who at this point is operating less like a TV show host and more like a BFF of Trump's who happens to be on TV. Hannity this week propelled the myth of the user-generated polls — which allegedly indicate that Trump "won" last Monday's debate — enraging Oliver.
"Everyone's gonna say, 'Hannity they're not scientific.' I hear what you're saying," Hannity admitted to Newt Gingrich last week.
"Do you though? Do you?" asked the Last Week Tonight host incredulously. "I'm not sure you do. In fact, I'm not even sure you hear what your own company is saying." Oliver revealed that even Fox News had to issue its own point of clarification to its employees, citing the fact that these "polls… do not meet our editorial standards."
It was a point of interest for Oliver, who was under the impression that the only Fox News editorial standards up until that point were "Women should be 8s and above" and "Try and not use the N-word."
Watch the segment above via HBO.
—
[image via screengrab]
Have a tip we should know? tips@mediaite.com