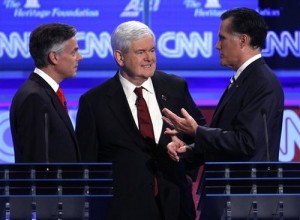 Shortly after mocking the notion of a Donald Trump-moderated debate, the Jon Huntsman campaign has announced that they have scored a major coup. In an email to reporters, the Huntsman campaign announced it had accepted an invitation to a Lincoln-Douglas style debate with current frontrunner Newt Gingrich, to be held in New Hampshire. Huntsman campaign manager Tim Miller also twisted the knife into Trump and rival Mitt Romney a little more.
RELATED: Jon Huntsman Campaign Fisks Mitt Romney's Disastrous Fox News Interview
I have to confess, when I first saw Miller's email, I thought it was a mock "acceptance" to try and goad Gingrich into such a debate (Gingrich has haughtily issued the same challenge to President Obama), but this is the real deal. This is a huge gamble for Gingrich, and a Tiffany-worthy gift to Huntsman, whose hopes rest on a win in New Hampshire. Polling on the bubble in the first-in-the-nation primary state, Huntsman is dropping all of his ordnance in that state, and a one-on-one forum with the national frontrunner is a priceless opportunity to gain ground.
RELATED: Newt Gingrich Says He'll Let President Obama Use Teleprompter In Debate
According to the campaign's email, New Hampshire polling leader (for now) Mitt Romney declined the same invitation, while agreeing to attend the Trump debate. "It is telling that Governor Romney has declined to participate because this substantive format makes it hard for him to hide from his record," Miller said.
Huntsman has underperformed at debates thus far, but has been hampered by very limited screen time. The Lincoln-Douglas format could be a great equalizer. Gingrich, by contrast, has done well in debates, but has yet to face a rival that views him as a threat. Gingrich's intellectual self-confidence is well known, but he has nothing to gain from his generosity, and everything to lose. Huntsman failed to qualify for the next several debates, so his chances to gain on Gingrich and Romney were dim, at best.
RELATED: Jon Huntsman Shows Up On SNL To Talk About How Much He Loves New Hampshire
It's possible Gingrich will mop the floor with Huntsman, but either way, the political media will watch closely to see how this plays out, and whether the former Speaker is brought low by hubris. If Jon Huntsman knows what's good for him, he's already engaged in an "Eye of the Tiger" debate prep montage.
Here's the full press release, from Jon Huntsman for President:
Manchester- Jon Huntsman for President today announced that Governor Huntsman will be participating in a Lincoln-Douglas style debate with Newt Gingrich in New Hampshire this month. Details pending negotiations with the Gingrich campaign.

In addition, our campaign is declining the invitation to participate in the Donald Trump Apprentice Debate on December 27th.

Campaign spokesman Tim Miller issued the following statement:

"We look forward to discussing the issues that matter to the American people in a serious, substantive debate with Speaker Gingrich later this month. It is telling that Governor Romney has declined to participate because this substantive format makes it hard for him to hide from his record.

In addition, we have declined to participate in the 'Presidential Apprentice' Debate with The Donald. The Republican Party deserves a serious discussion of the issues so voters can choose a leader they trust to defeat President Obama and turn our economy around. We are confident that leader will be Jon Huntsman."
Have a tip we should know? tips@mediaite.com