Jon Stewart 'Celebrates' The Return Of George W. Bush To Mainstream Media Coverage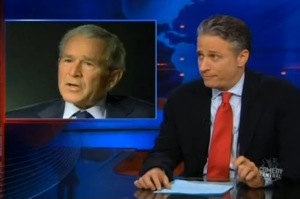 "Memoirs are by their nature self-serving, you get to create the parameters by which you want history to judge you." These were the words used to set-up by Daily Show host Jon Stewart the following segment focusing on former President George W. Bush's recent publicity tour promoting his new memoir Decision Points. Despite the very low energy of a clearly infirm Stewart, the source interview material made for a very entertaining and humorous trip down Presidential memory lane, with appearances on Hannity, Today, and Oprah, there was no shortage of clips used for comedic juxtaposition.
Some highlights? Well there's the apparent situational legal ethics between Bush's okaying waterboarding because lawyers said it was okay, and keeping federal troops from going into a Katrina ravaged Gulf Coast because legal counsel found it unconstitutional.
There was the Matt Lauer's resolution of the beef between former President Bush and hip-hop auteur Kanye West.
Perhaps the most illustrative moment was Bush's steadfast pride in telling Sean Hannity that he never ceded his core principals, then telling Lauer how he gave up on 'capitalism' to save it with the bailout in order to save the depression.
With President Obama's approval ratings in decline, there has been a fair amount of reclaiming the regard for President Bush, but the following segment from The Daily Show may remind viewers that, the Bush years may not have been a whole lot better than the Obama years, except when it comes to producing rich comedic material. Watch and see for yourself.
Have a tip we should know? tips@mediaite.com
Colby Hall - Founding Editor