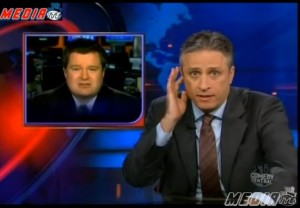 Hey, remember yesterday, when I mentioned that Redstate's Erick Erickson didn't really need anything to mess with the mainstream cred he's building with his new CNN gig? Yeah, about that…
Daily Show host Jon Stewart lit into both Erickson and CNN last night, highlighting a Reliable Sources segment in which Howard Kurtz grilled the Redstate chief about some rhetorical skeletons in his closet. While Stewart's real criticism was of CNN for acting shocked at Erick being Erick, it's also a pretty good bet that Erickson wouldn't mind if his "Greatest Hits" could just stay in the vault from now on.
Before you watch this, though, some of these  might seem familiar to you. Most of these doozies were trotted out by Stephen Colbert in a January interview with Erickson. What a difference a few weeks make. Then, Erickson tried to pull a fast one on Colbert, explaining that his comparison of White House adviser Linda Douglass to Joseph Goebbels was a response to a similar remark from Douglass.
He almost got away with it, but Colbert had Douglass on the next night to refute Erickson's claim. This time, it looks like he's just saying "My bad!" and moving on.
As it happens, I disagree somewhat with Stewart's assessment of Erick Erickson. While there's no shortage of incendiary rhetoric in his portfolio, that's the currency of the blogger's realm. Without original reporting, there are only a few ways to draw the eyeballs, and stepping over the line is a reliable one.
However, Erickson, like him or not, has grown Redstate into the Coca Cola of conservative blogs. He didn't do that just by calling people Nazis or goat-f***ing child molesters. He did it by understanding his audience, who constitute the broadest swath of mainstream conservatives. That's what he brings to CNN, the true mainstream pulse of conservatism. Unfortunately, that happens to include the occasional spitting on Ted Kennedy's grave.
Have a tip we should know? [email protected]
---