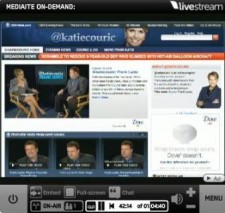 CBS Evening News anchor Katie Couric interviewed Fox News host Glenn Beck last month for the premiere of her Web series, "@KatieCouric."
During her appearance as a guest on our Mediaite Office Hours web show Thursday, we asked Couric for her thoughts on the surging FNC host, among other topics.
"He's a big showman," said Couric. "There's a little P.T. Barnum in Glenn Beck, I think. But sitting there face-to-face, we just had a nice conversation even though some of his practices aren't something we would do at CBS."
She also described what she thought was one of the most "interesting" parts of her discussion with Beck, when she pressed him on if he ever went over the line, and he asked if she would ask that same question to Jon Stewart:
I thought it was interesting that he actually seems himself as more along the lines of Jon Stewart than a journalist and that he wants to be judged accordingly. I think the problem is, because he's on Fox News and it's a news network, people feel that he is more along the lines of a journalist.
(Side note: I guess Couric disagrees with the White House regarding FNC's status as a "news network.")
A couple other parts of the interview:
Couric on using new media:
I think sometimes it's just to have a different avenue, not for the sole purpose even though obviously itd be nice if it increased the ratings of the evening news as well, but I think just to have multiple platforms for that reason alone without trying to make it feed into another platform is also a great thing.
Couric on her critics:
Everybody's got an opinion, you guys, I think you just have to focus on your work. Listen to constructive criticism but not necessarily take everybody who has access to a computer or a blog or a newspaper all that seriously if you feel confident in yourself and believe you're doing a good job.
She also talked about her most recent web show, with Frank Luntz, what it means for Diane Sawyer to take over the anchor chair at ABC and if there was any vindication in winning an award named for Al Neuharth, and hearing him change his opinion of her over the last three years.
Here's the full Office Hours show from last week, with the Couric interview beginning at the 37-minute mark:


—–
» Follow Steve Krakauer on Twitter
Have a tip we should know? tips@mediaite.com