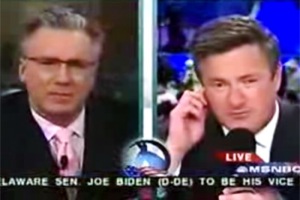 Yesterday was a tough day to be Morning Joe host Joe Scarborough, as political pundits were taking shots at him left and…left. The subject was Joe's assertion that the media slept through the Joe Sestak controversy (an assertion with which I strongly disagree). First, DailyKos founder Markos Moulitsas attacked Scarborough via Twitter, and on last night's Countdown, MSNBC colleague Keith Olbermann launched a veiled, but very nasty, attack on him.
Scarborough and Moulitsas started out having a fairly reasoned discussion, but it got ugly fast as Moulitsas started to reference unfounded rumors about Scarborough's time as a Congressman (the Twitter back-and-forth is up on their accounts).
Then, there's Keith Olbermann, who conspicuously doesn't name Scarborough as he trashes him on last night's Countdown. At the 5:21 mark in this clip, he says:
"I heard a charge today that the media has been asleep on this story since it began. How much traction will Fox News, and people like those who made that charge, who do cheap impressions of Fox News…and the political party that they serve, how much mileage will they get out of this?"


The idea of collegial criticism has been a flashpoint for MSNBC. Scarborough has publicly criticized Olbermann before, both by name and not, and he and Donny Deutsch have each been disciplined for criticizing the Countdown host. Scarborough's criticisms, though, were always rather narrow and substantial, whereas this shot by Keith cuts wide and deep.
In fairness to Keith, this may be MSNBC's failing. If he wants to call Scarborough a GOP shill, he ought to be able to do it by name, and to his face. If he has a case to make, let him make it, and let Scarborough respond. It was not long ago that Joe was fending off attacks on his bona fides from the right.
Personally, I believe in confronting conflicts head-on. I've called Scarborough out on Twitter before, but never felt the need to question his right to be on the air, or to evoke a sad tragedy. I also believe that colleagues can disagree openly, and do so in a way that allows them to remain friends.
On the Sestak story, I disagree strongly with Scarborough's "media malpractice" assertion. The press consistently questioned both Sestak and the White House right up until the full explanation was given. There was never any let-up, but you can only run the same question mark so many times.
Going forward, it looks like Republican political figures, and not the MSM, will be throwing cold water on Sestak-gate.
Have a tip we should know? tips@mediaite.com