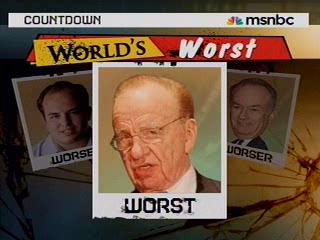 When it came to discussing the 'truce' story, Keith Olbermann addressed it on air and Bill O'Reilly did not. No big surprise there.
But Olbermann didn't just address it – he spent an entire "Worst Persons in The World" segment on the matter. He wrote about it at his online home, the liberal community site, The Daily Kos. He jumped into the comments section until after 3amET this morning, responding to readers. In other words, he assured this story would not go away.
His bronze WPITW went to New York Times reporter Brian Stelter, after previously teasing the segment saying the Times was "carrying water" for Fox News. Stelter tells Mediaite, "Last year Bill O'Reilly said I was 'in the tank' for NBC. Now Keith Olbermann says I'm 'carrying water' for Fox. Maybe next time I'll be 'on the payroll' at CNN."
The silver went to Bill O'Reilly – and in a big way. Back was "the name, the photograph, and the caricature" he supposedly "retired" back on June 1. Then, to put an exclamation point on the whole segment, he closed it out with naming News Corp. head Rupert Murdoch as the "worst." It didn't sound like the "cease-fire" reported in the NYT, or even the 'end to personal attacks' reported by TVNewser.
But that was just the beginning. Before Countdown even aired, Olbermann was on The Daily Kos, writing about the story. "There is no 'deal' between MSNBC and Fox over what we can and cannot cover," he writes. "This is part of a continuing strategy of blackmail by Rupert Murdoch and Roger Ailes, that reaches back to 2004, and has as its goal the cancellation of 'Countdown.'"
He also says "Ailes himself is tonight quoted as saying he tried to 'broker peace' by restraining his hosts," but Ailes is not quoted anywhere discussing this. In the same post, Olbermann gave his thoughts on the Richard Wolffe situation, and announced Wolffe was banned from the show (for now).
Then Countdown ended, and Olbermann began his 15-comment run that lasted until after 3amET. Here's a sampling.
On the Wolffe situation:
There's me and the Executive Producer, and when we're both, uh, preoccupied with larger issues, what we are told by long-term contributors who have changed jobs tends not to get vetted.
On whether Glenn Greenwald should be blamed:
I don't think he has an axe in this fight. As I tried to tell Stelter, yes, there's plenty of evidence about, even claims of, a deal. But if one of the people whose performance decides whether or not there is a deal, says he is not party to a deal, then there is no deal.
And then there's this, which gives people like Greenwald even more fodder for corporate influence discussion:
Pressures ebb and flow on what should be said and what shouldn't be (see Jujitsu comment in diary). Show executives and network executives are forever in meetings. People horse trade.
Whether this new old program will be the norm remains to be seen. Since Olbermann's attacks have significantly dialed down since June 1, until last night, this comes across more like a singular outward display of independence than an everyday occurrence. This story isn't going away, and the signs of a "deal" between the two parties involved cannot be determined after one night. But for the hardcore Countdown fans, most will be satisfied by these shots at Fox News, and seeming autonomy from outside pressures – for now.
—–
» Follow Steve Krakauer on Twitter
Have a tip we should know? [email protected]