Olbermann Stunned By Coburn's Defense Of Nancy Pelosi & Anti-Fox News Comment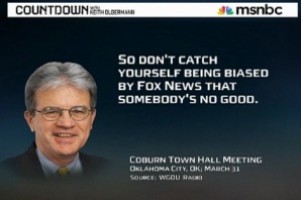 When news broke yesterday that Senator Tom Coburn (R-OK) had made unfavorable comments towards Fox News (and perhaps more striking, favorable thoughts on Nancy Pelosi) one knew that Keith Olbermann was sure to pounce. And pounce he did, though in his own words, he was stunned. At a loss for words even.
Olbermann opened his segment with "the two inescapable tenets of the Republican party" Nancy Pelosi? Devil. Fox News? God. He then reported on the story, that Senator Coburn had shared some nice words about Speaker of the House Pelosi at a Town Hall meeting with constituents upset with the health care reform. "Don't catch yourself being biased by Fox News" Coburn said, then suggested (in Olbermann's words) that "what Fox News was doing was bad for America."
Olbermann then had on guest Eugene Robinson, columnist for the Washington Post in what was a perfect opportunity for an intelligent and germane conversation about the relationship between Fox News, the GOP and opinion media in general. Instead, they openly wondered what Glenn Beck would be saying about Tom Coburn, specifically trying to guess how Beck would anagram Tom Coburn. Oddly, it was exactly the sort of sophomoric comedy that put them in the same realm of opiniotainment as the man they deride, Glenn Beck.
There is little doubt that the majority of GOP lawmakers profess many of the same traditional beliefs of Fox News opinion-makers, namely Bill O'Reilly, Sean Hannity, Neil Cavuto, and to some extent Glenn Beck. Its also true that pitched hyperbole can make for terrific television ratings, but its not yet proven to win elections. As such, the dance between Republican officials and Fox News will be fun to watch over the coming months. Something tells me, though, that they will get on the same page sooner rather than later.
Have a tip we should know? tips@mediaite.com