Klein: "If James Carville And Mary Matalin Can Be Married Then Jon Klein And Roger Ailes Can Be Friends"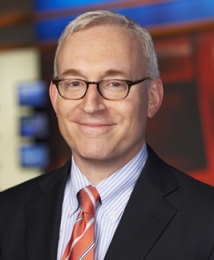 Another thing I talked about with former CNN/U.S. President Jon Klein yesterday was his reaction to a very positive quote from Fox News Chairman and CEO Roger Ailes.
It was particularly interesting as Ailes' network and Klein himself have had quite a rocky relationship – at least until Klein officially was no longer at the helm of fellow cable news outlet CNN.
Ailes told the AP:
Jon is a respected journalist and an expert in the digital realm. We've enjoyed competing with CNN during his tenure and I'm confident he'll be an asset to any news organization he joins in the future. I look forward to continuing our personal dialogue.
Klein told Mediaite the comment was "incredibly classy" and he was "grateful for it." But Ailes describes a "personal dialogue" – was there some behind-the-scenes friendship kept mostly quiet during Klein's run?
"I think if James Carville and Mary Matalin can be married, then Jon Klein and Roger Ailes can be friends," he said, describing their periodic lunches through the years. "We've always gotten along, and I respect him immensely."
Interesting – especially in the context of a stroll down the memory lane of Klein's six years at CNN. There was the famous Fox News wishing-well when he got the job, knocks on performance and talk of a time machine ride, to name a few. Now, for the time being, the only comment coming out of Fox is the gracious one from the top.
There is an inevitable mixed reaction when a change in leadership is made at such a large organization. Some within the organization, or who have since left, will applaud the decision, while many others will be disappointed. Mediaite obtained an email from one CNN employee who is part of the latter. His email, in part:
During the eight years I was at CNN, there was no other president as involved, as invested in individual stories as you. Even before I actually had the chance to meet you, I was blown away by how much you seemed to be paying attention to the actual product. It all made sense when I learned that you were a documentarian and long-form producer at heart. I could see the passion and attention to detail and love of storytelling. I think we are all better for it.

On a personal level, I can't tell you how much I have appreciated the time and attention and advice you've given me.
As the fallout continues, expect more reaction to the new CNN direction.
—–
» Follow Steve Krakauer on Twitter
Have a tip we should know? tips@mediaite.com