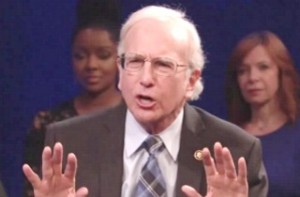 Larry David, who answered a Latino advocacy group's plea for an audience member to call Donald Trump a racist during the presidential candidate's Nov. 7 hosting gig on Saturday Night Live, has yet to pick up his bounty, CNN reports.
Luke Montgomery, the campaign manager for Deport Racism, said David has not responded to numerous attempts by the group to give the comedian $5,000 — the award promised to anyone willing to interrupt the live show.
Montgomery said the group has called and emailed David to avail. "I don't know what we can do beyond that," Montgomery said. "We're waiting to hear back. We're kind of in stand-by mode."
Though David's interruption was a scripted moment for the show, Montgomery said Deport Racism was "delighted" with the scene. "The fact that Saturday Night Live was so afraid that somebody in their audience would take up DeportRacism.com forced themselves to have to call Donald Trump a racist in the script" was a "major victory," Montgomery said.
"It actually brought more attention to our message than if a regular protester had done it, as opposed to Larry David," he added.
Montgomery said the group is working on a contingency plan if David does not come forward for the money. Though they won't "take any action" until they hear back from the comedian, Montgomery said the group was considering donating the money to Democratic candidate Bernie Sanders.
Sanders, who David impersonated on SNL last month, has "really great positions on immigration and racial equality," according to Montgomery. He also floated the idea of holding the bounty for "somebody who interrupts the next GOP debate in December and calls Trump a racist."
Montgomery said the group is "squarely focused" on Trump. "He's the Republican frontrunner and he's the one who's been leading the charge against Latinos," Montgomery said.
[Image via screengrab]
—
>> Follow Elizabeth Preza on Twitter (@lizacisms)
Have a tip we should know? tips@mediaite.com