Let Fred In: GOP Hopeful Fred Karger Urges Comcast CEO To Let Him Participate In NBC Debate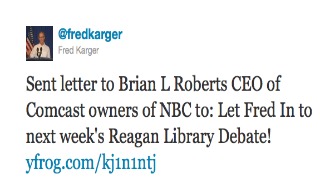 We don't hear too much about GOP hopeful Fred Karger until he makes the news for not doing something — particularly for not having participated in the recent Iowa debates — and so he's taking steps to ensure that won't happen again.
Karger, you'll recall, filed a complaint against Fox News earlier this month after he says the network altered its eligibility requirements in order to keep him out of the debate, adding that this "blatant affront by Fox News executives smacks of discrimination." Karger is an openly gay Republican who has long been a very vocal advocate of gay rights.
This time around, Karger is taking precautions, Tweeting that he has sent a letter to Comcast CEO Brian L. Roberts, urging him to "Let Fred In" as a participant in next week's Reagan Library Debate on NBC.
So far, eight qualifying Republican candidates are slated to participate in the debate, which will take place on September 7th: Michele Bachmann, Herman Cain, Newt Gingrich, Jon Huntsman, Ron Paul, Rick Perry, Mitt Romney and Rick Santorum.
The participants, according to Politico, which is helping organize/report on the event in conjunction with NBC and The Reagan Foundation, were informed of their eligibility standing via invitation by none other than former first lady Nancy Reagan:
Former first lady Nancy Reagan sent an invitation to the presidential hopefuls who meet the eligibility standards, which require that a candidacy be formally announced and that a candidate captures at least 4 percent in one of eight national polls.
We'll let you know whether Karger is able to prove he met those requirements to The Powers That Be at NBC's parent company.
Have a tip we should know? tips@mediaite.com