Limbaugh: Clinton Has 'Gone Rogue' Backing Bush Tax Cuts, Is 'On The Warpath' Against Obama
Rush Limbaugh: Clinton Is 'On The Warpath' Against Obama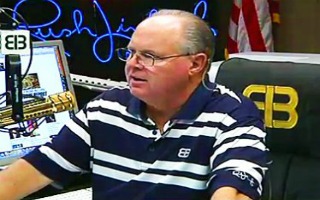 Conservative radio host Rush Limbaugh accused former President Bill Clinton of sabotaging the Obama campaign on Wednesday after Clinton backed extending President George W. Bush's tax cuts for all Americans. On Tuesday, Clinton recommended to CNBC's Maria Bartiromo that all the Bush tax cuts be extended — the Obama administration has said they want to extend the tax cuts only for families making less than $250,000 per year. Limbaugh said Clinton has "gone rogue" and is undercutting the Obama campaign's messaging intentionally.

RELATED: Contradicting Obama Again? Bill Clinton Tells CNBC That Congress Should Extend All Tax Cuts
"This is Bill Clinton who has gone rogue," said Limbaugh. "He is on the warpath undercutting Obama in two ways. He's taking the opposite position from Obama on the Bush tax cuts and he's also saying that we have slipped back into a recession."
After playing a clip of Clinton backing the Bush tax cuts, Limbaugh noted that Clinton slammed Obama during the 2008 Democratic presidential primaries when he told the late Sen. Ted Kennedy that just a few years ago "this guy would have been serving us drinks." Limbaugh said that it was then that Clinton began to be accused of having "thrown the race card." That, he said, could be the root of Clinton's alleged animus towards Obama.
After returning from a break, Limbaugh played a clip of CNN correspondent Dana Bash saying that she is hearing that "Democrats on Capitol Hill – not happy."
Limbaugh said he believes it is the conventional wisdom that the Bush tax cuts will be extended before the end of the year. However, he said that he thinks "the Democrats don't want anybody thinking that that's automatic. They want to have the Republicans give up something for that and Clinton is blowing that all to smithereens."
Limbaugh concluded his segment by playing a clip of CNN contributor David Gergen who said he thinks Obama will have to extend all the Bush tax cuts and Clinton is preparing a political path to get the support of reluctant Democrats. "I think that's wishful thinking on their part," Limbaugh concluded.
Listen to the segment below via the Rush Limbaugh Radio Show:
h/t Daily Rushbo
Follow Noah Rothman on Twitter
Have a tip we should know? tips@mediaite.com