Limbaugh: Media Will Make Zimmerman Laywer Out To Be 'Bully' Over 'Cracker' Questions To Rachel Jeantel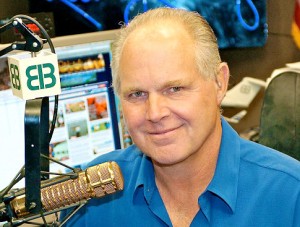 Rush Limbaugh today weighed in on the latest details in the George Zimmerman murder trial, namely, the testimony of Rachel Jeantel, who was on the phone with Martin before his death. Jeantel explained yesterday that Martin described Zimmerman as a "creepy-ass, white, kill-my-neighbors cracker," and when questioned by the defense today, denied it was meant as a "racial comment." Limbaugh said the media will make Zimmerman lawyer Don West out to be a bully for asking those questions of her.
Limbaugh remarked that Jeantel is "probably an Obama voter" and a "classic example of a low-information citizen," before playing audio of her remarks in the courtroom and of West interrogating her about the racial offensiveness of the word "cracker."
RELATED: CNN Contributor: Trayvon Was Just 'Being Descriptive To What He Sees' When Calling Zimmerman 'Cracker'
Limbaugh suggested a double standard, pointing out that "if Trayvon Martin had been referred to as a crazy-ass something-or-else, that would have been big." He mockingly imitated Jeantel calling West and everyone in the courtroom a cracker, and after bashing her some more, turned to the media and how they will almost certainly spin the story.
"They're going to call this guy a bully, before this is all–this lawyer, who is–I mean, he's desperately trying not to say anything, he desperately wants the witness's testimony to speak for itself, but he's making sure, he's asking her to repeat it, and he's gonna end up being the bully. You wait and see! Creepy-ass cracker bully! That's what the lawyer's going to end up being."
Limbaugh also noted that if Jeantel is really the prosecution's star witness, this is not going to end up being much of a case.
Watch the video below:
—–
Follow Josh Feldman on Twitter: @feldmaniac
Have a tip we should know? tips@mediaite.com
Josh Feldman - Senior Editor