Limbaugh On Hillary Clinton: 'Has Reached The Pinnacle, And All She Is Is A Secretary'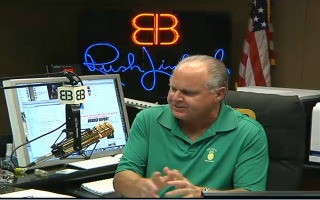 On Thursday, conservative radio host Rush Limbaugh commented on the Time Magazine 100 Most Influential People gala in New York on Tuesday when he said that attendee, Sec. Hillary Clinton, must be disappointed in herself because she "has reached the pinnacle, and all she is is a secretary."

RELATED: Rush Limbaugh: Sandra Fluke Is 'Coordinating' With Obama On Student Loans Issue
"What is Hillary doing at the Time [Magazine] 100 Most Influential bash," asked Limbaugh. "Exactly how influential is Hillary Clinton. What has she ever accomplished as Secretary of State?"
You look back on Condoleezza Rice – other Secretaries of State. The Middle East is falling apart. The United States is weakening itself. We are apparently going to give away a whole lot of nuclear weapons. What in the world is this – like the rest of the administration – what about this is great? Where is the greatness? Where is the influence? Where is the standing up for America? Where is the defending America as a superpower? It doesn't exist.
Limbaugh went on to say that the Time Magazine event was merely a self-congratulatory party for influential Democrats. "This was just a bash by libs, for libs, with libs. We had a couple of conservative circus act guests thrown in – to give it balance," said Limbaugh
You could almost say folks, Mrs. Clinton worked very hard throughout her life and she stuck by her husband when he – we all know what he did. Humiliated her. Embarrassed her. Affair, after affair, after affair. And now Hillary has reached the pinnacle, and all she is is a secretary. She's the Secretary of Defense – State, whatever. But still a secretary. I don't know. The left has the strangest definitions of success.
Listen to the segment below via the Rush Limbaugh radio show:
h/t The Daily Rushbo
Have a tip we should know? tips@mediaite.com