Limbaugh Tells Romney To Ditch Eric Fehrnstrom and 'Get Some Real Conservatives As His Spokespeople'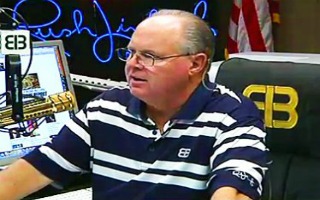 Conservative radio host Rush Limbaugh praised the notion circulating among Republicans on Friday that Romney should make the ideological case for his election and state why President Barack Obama's political values are antithetical to those of most Americans. He took a shot at Romney's campaign advisors too, particularly longtime Romney advisor Eric Fehrnstrom, who he said the campaign does not need.

RELATED: Top Romney Advisor Eric Fehrnstrom: Romney Does Not Believe Health Care Mandate Is A Tax
Limbaugh praised a column by Charles Krauthammer who urged Mitt Romney to highlight the ideological distinctions between himself and President Barack Obama.
"I have been begging Romney to do this since he became the frontrunner in the primaries," said Limbaugh, recalling how he heaped praise on former House Speaker Newt Gingrich for celebrating the value of work.
"Ideas matter," said Limbaugh. "Ideas triumph."
"All Romney has to do is get some real conservatives as his spokespeople and this problem won't happen anymore," said Limbaugh. He then took a shot at Fehrnstrom, as well as the rest of Romney's communication team.
"We don't need the Etch-a-Sketch guy. And we don't need people who are not ideological," Limbaugh said. "I have begged Romney and the Republican party at large, would you please say this is ideological? Would you please start thinking in terms of ideology?"
Listen to the segment below via The Rush Limbaugh Show:
h/t Daily Rushbo
> >Follow Noah Rothman (@Noah_C_Rothman) on Twitter
Have a tip we should know? tips@mediaite.com