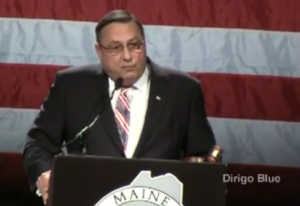 Maine Governor Paul LePage spoke on Sunday at his state's GOP convention. He addressed a range of topics including energy and job creation, and also specifically noted the need for welfare reform. His message to able-bodied, unemployed Americans was, "Get off the couch and get yourself a job."
LePage, at that point in his speech, was appealing to the state legislature, elaborating on the need to fix the welfare system. "Maine's welfare program is cannibalizing the rest of state government. To all you able-bodied people out there: Get off the couch and get yourself a job," he said.
He added that he has experience with the welfare system. "I understand welfare because I lived it," LePage said. "I understand the difference between a want and a need. The Republican Party promised to bring welfare change. We must deliver on this promise."
The Huffington Post notes that LePage has been pushing for welfare reform for some time now, with Democrats criticizing him for including disability to MaineCare (Medicaid) as part of welfare.
As one might expect, the response to his comments wasn't all cheers and applause. Mike Tipping, communications director for the Maine People's Alliance, called the remarks "downright offensive" to those who are searching for work in a difficult economy — particularly "considering his embarrassing record of failing to invest in programs that create jobs and cutting assistance for the unemployed while at the same time giving massive new tax breaks to the wealthy."
Christine Hastedt, public policy director at Maine Equal Justice Partners, voiced a similar sentiment. She called them "a gross insult to working people who get up every day and become discouraged by the end of the day, because there's not a job for them."
Take a look at a portion of his speech:

(H/T Huffington Post)
Have a tip we should know? tips@mediaite.com