Mark Levin Rips Kellyanne Conway's 'Moron' Husband: 'Apparently You Believe in Publicly Humiliating Your Wife'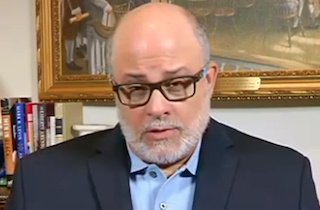 Conservative talk radio host Mark Levin holds remarkable sway over his fellow right-of-center opinionators. His sharp and fearless perspective serves as a "lodestar" for lesser mortals trying to analyze the news of the day in a manner that puts conservative ideologies in the most positive light.
So when the husband to White House senior staffer Kellyanne Conway announced that he was forming a coalition of conservative lawyers designed to challenge the Trump Administration on the legal battlefield, Levin's take causes big ripples.
George Conway is a frequent critic of President Donald Trump and reportedly founded the group with several affiliates of his from the Federalist Society, a conservative legal group which is about to hold a convention to celebrate their growing influence in the Trump era.
But Levin sees something more sinister in Mr. Conway's efforts, or what Trump ostensibly called a publicity stunt. Levin tweeted:
Apparently you believe in publicly humiliating your wife, moron https://t.co/KWy40cGK4t

— Mark R. Levin (@marklevinshow) November 15, 2018
So conservative talk radio hosts scanning Mediaite for the latest topic on which you can entertain your audience? Here you go. Mark Levin sees George Conway publicly humiliating his wife.
Nothing yet on Conway's efforts to hold Trump accountable to the conservative legal principles to which he believes, but that might be saved for another post.
Have a tip we should know? tips@mediaite.com