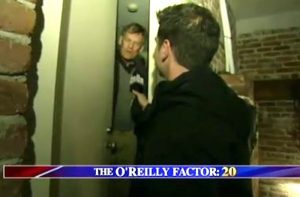 Hampshire College President Jonathan Lash called the police on Fox News' Jesse Watters after Watters refused to allow him to close the door to his house to end his interview.
Watters laid in wait in what appears to be Lash's garage, waiting to interview him about Hampshire's decision to temporarily take down its campus American flag after desecration and theft by student. "Jesse Watters with The O'Reilly Factor, Fox News Channel, good to see you," Watters introduced himself when Lash left his car.
"Not good to see you," Lash responded.
When Lash entered his house, Watters stuck his foot into the door. "Come on, get your foot out of my door," said Lash.
"President Lash, why'd you remove the flag?" Watters pressed.
Lash tried and failed to close the door. "I don't want to talk to you about it. Would you please remove your foot from my door?" he asked again.
The footage aired by Fox News ended there, but Hampshire College told The Washington Post in a statement that they eventually called the police:
Members of the media are familiar with widely accepted protocols to contact the office of communications to coordinate interview requests. In this instance, a Fox reporter and camera person did not request an interview but rather entered private property and then tried to prevent the president of the college from entering his private home. As a result, campus security and the local police department were alerted.
Watch above, via Fox News.
[Image via screengrab]
—
>>Follow Alex Griswold (@HashtagGriswold) on Twitter
Have a tip we should know? tips@mediaite.com