Matthews Defends Priebus Confrontation: GOP 'Is Dividing This Country Along Racial Lines'
Matthews Defends Priebus Confrontation: GOP Dividing Country 'Along Racial Lines'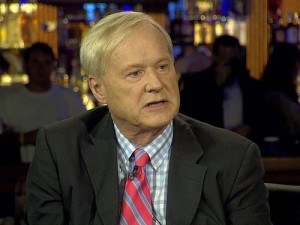 Yesterday on Morning Joe, MSNBC's Chris Matthews squared off with RNC Chairman Reince Priebus over Republicans playing the race card. Matthew followed up on his show with an equally contentious interview about race and the Republican party with Newt Gingrich. Last night Matthews defended his Priebus interview in an interview with POLITICO, making it clear he is passionate about racial politics and said that such rhetoric "isn't even covert any more, it's overt."
RELATED: Priebus Responds To Matthews' Grilling On Morning Joe: He's 'The Biggest Jerk In The Room'
Matthews opened up in what POLITICO describes as an "emotional interview" about how politicians have played the race card over the years.
"It is obvious that this is something I care passionately about: race was abused by white politicians in my lifetime, including Reagan. For someone to come on the program and deny that this is part of their process, I couldn't take that… This is something I really, deeply believe in. We grew up in a country where appeals to race have been awful, terrible. This language — we are beyond this. It had to be called out."
Despite much backlash to his interview from Republicans, Matthews claimed that he got an "outpouring of support" not just from fans all over the world, but from his bosses as well, whom Matthews says "agree with the substance of what I said." Matthews lamented the fact that such a conversation was necessary at this point in the nation's history.
"There are a couple issues like peace and war, and race relations — this is, deeply, not something we should be revisiting in the 21st century… It isn't even covert any more, its overt. Race is the San Andreas Fault in this country, and this is dividing this country along racial lines."
h/t POLITICO
Have a tip we should know? [email protected]
Josh Feldman - Senior Editor